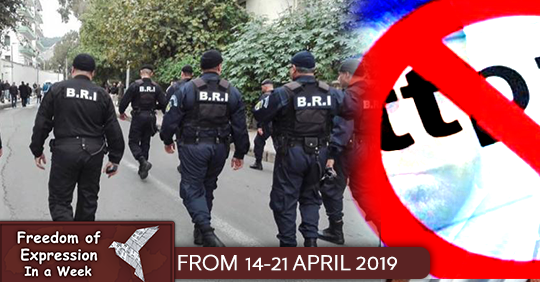 Egypt
Young man arrested after holding a placard calling for rejecting the constitutional amendments
Yesterday (Sunday), police forces arrested a young engineer named Ahmed Badawi from the Fifth Settlement district; for holding a placard calling for a "No" vote in the constitutional amendments for the second day in a row.
Egyptian authorities accidentally block 34,000 websites while attempting to block Batel (Void) campaign websites
The Egyptian authorities have blocked access to an estimated 34,000 websites by mistake, while attempting to block the websites for Batel (Void) campaign, which was launched on the 8th of this April to protest against the constitutional amendments, according to new NetBlocks internet measurement data.
Palestine
Court orders deportation of Human Rights Watch Official
On April 16, an Israeli court in the occupied Jerusalem upheld the Israeli government's order to deport Omar Shakir, director of Human Rights Watch's office in Palestine, alleging that he is one of those who support the boycott of Israeli settlements.
Libya
Libyan embassy in Tunis prevents journalist from covering press conference
The Libyan embassy in Tunisia has prevented an "Afrigate News" correspondent from covering a press conference organized by the embassy on April 16, while most representatives of media outlets affiliated with political Islam were allowed to enter.
Algeria
Security forces break into the University of Algiers
On April 17, a security force storm Algiers University's Faculty of Law in the Algerian capital, where students and professors took part in a seminar about their contribution to the "Hirak" Movement in the country. The faculty administration, however, has denied, in a statement, having any contact with the security forces or that it granted them the permission to enter the campus.
Algeria Press Service (APS) reporter attacked
Hisham Hammel, head of the Algeria Press Service (APS) office in Tapaza (west of the capital), was attacked by a group of protesters on Friday, April 19, while covering the 9th consecutive Friday March in Tapaza; claiming that women were photographed without their permission.
.