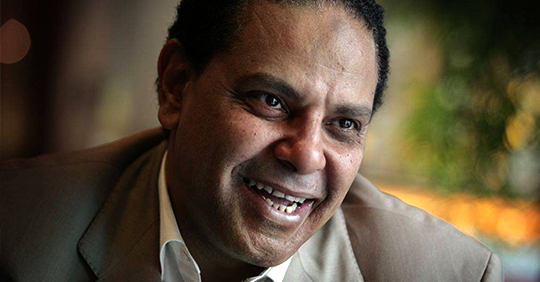 Cairo: 26 March 2018
The Arabic Network for Human Rights Information (ANHRI) said today, that the Egyptian well-known writer and novelist Alaa Al Aswany has become the target of systematic intimidation and defamation campaigns; to punish him for his criticism of the absence of democracy in Egypt and his demand for freedom of expression and the rule of law. The last episode of such malicious campaign is the political "Hesba" complaints filed against him by lawyers who are mostly seeking fame or to get close to the security services in Egypt.
After a week of research and investigation, ANHRI was surprised that all Hesba cases' lawyers, sung and unsung, who are known for their hostility to human rights and freedom of expression have filed a number of complaints against Al Aswany, the latest of which is a vexatious complaint by military prosecutors for allegedly insulting the president and the armed forces.
It is noteworthy that political "Hesba" lawsuits can be defined when a citizen or a lawyer grants himself the right to claim that he is the representative of the community, and usually calls for the punishment of a writer or a journalist or a human rights institution only for their critical views not for his personal status or interest, which constitutes an encroachment on the authority of the Public Prosecution. These kinds of lawsuits were first initiated by religious extremist lawyers during the 90s against writers and artists in an attempt to intimidate them and impose extremist religious ideas on society. Then, some lawyers and citizens supporting the corrupt dictator Hosni Mubarak tried to use "Hesba" as a tool to punish critics or writers and journalists. This abhorrent phenomenon had disappeared following the January revolution, before it resurfaced throughout the past five years when some lawyers, mostly backed by the security services, used "Hesba" cases to try to intimidate the opponents of president Abdel Fattah al-Sisi's policies, Alaa Al Aswany has become one of the targets of such complaints.
Besides the ban of Al Aswany's last novel "The Republic, As If" and the restrictions that have been imposed on its distribution, several complaints have been successively filed against him; because of his literature vision that he styled in his novel to support the January revolution, not to mention his weekly columns that he writes for DW and the severe restrictions that prevented him from holding his weekly cultural symposium, in addition to his repeated arrest at Cairo airport upon traveling or returning from abroad.
ANHRI said, "Sufficive to Google (complaint against Alaa Al Aswany) to find an enormous number of complaints that have been filed against him by lawyers and citizens, mostly known for their connection to the security services and their hostility to freedom of expression. You will also find a number of trashy smear campaigns launched by media figures working in satellite channels that are run by state-baked businessmen who are known for their anti-freedom stances in Egypt."
While ANHRI is calling on the Public Prosecutor and the Military Prosecutor to declare the real legal position of Alaa Al Aswany, along with those being targeted by such malicious complaints, it also demanding them to confront the phenomenon of political "Hesba" cases, and to reject all lawsuits whose plaintiffs have no direct personal interest or status; in order to ensure the Egyptian citizens' trust in the justice system in Egypt, when it rejects cases that is filed under political aims "Hesba cases" as well as the attempts to use the judiciary in political dispute between many sectors of society and government bodies.