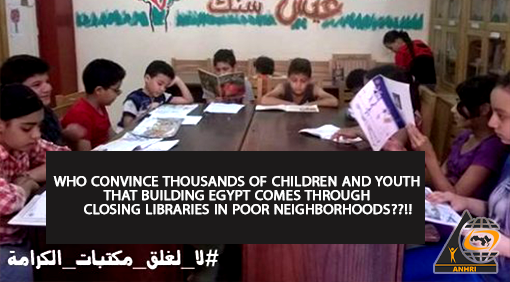 Cairo: 1 December 2021
It has been five years since the National Security Agency closed "Al-Karama" Public Libraries which were established by human rights lawyer Gamal Eid, with the funds he received from Germany's Defender of Human Dignity Award in 2011. He first allocated the funds to establish three public libraries and later they became six, given the tremendous support and solidarity shown by hundreds of citizens, journalists and intellectuals to this great initiative that was thwarted by the security services.
The Karama Public Libraries series, which was launched in May 2012 with one library in one of Egypt's poorest districts "Dar Al Salam in Cairo" before the number raised to six libraries in 2016, witnessed a police onslaught on 1 December 2016, which resulted in the closure of all libraries thereafter; in revenge and retaliation against its founder Gamal Eid, under no legal ground or justification and without any judicial warrant.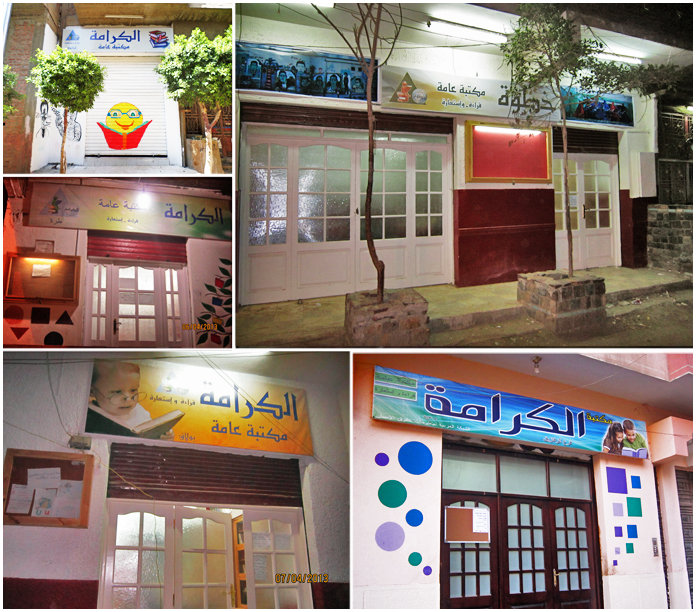 And when Eid resorted to Egypt's then-nominee for UNESCO Moshira Khattab, she colluded with the authorities and misled citizens by claiming that there was a case before the judiciary pertaining to the closure of libraries, despite the fact that she had visited the libraries before and shared her admiration for the idea and despite being certain that the police closure was to take revenge on Gamal Eid! And as a result of such complicity and misinformation, she lost the position of UNESCO Director General in 2017.
The matter wasn't much different when the founder of the libraries resorted to Egypt's President to rein in and curb the political security apparatus dubbed "National Security", as the President declared that the case is in the hands of the judiciary!
It has been now five years since the closure of Al-Karama libraries, which provided cultural and educational services to more than a quarter of a million children, young men and women, and citizens in Egypt's slums and poor neighborhoods, and the closure still continues. During this long period, the judiciary hasn't witnessed a single case, or a decision of punishment or accountability against the police officers who violated the law, while Moshira Khattab has been rewarded by the position of President of the government-affiliated National Council for Human Rights!
Even the video in which Al-Sidi responded to the request to stop the police crackdown on the libraries was deleted from YouTube. In the meantime, the state hasn't offered an alternative or open even one library from the 6 that were closed.
Nevertheless, and in light of the media blackout, misinformation, and the continuation of police practices, this documented crime will not go unpunished; as not a single government official who claims to build and protect Egypt can find an answer to the simple question that any child or a young man- deprived of such a glimmer of light provided by a library that benefits him culturally and educationally- may address him: "How can Egypt be built through the closing of public libraries?!"
Useful links:
The story of closing the libraries 
A police brigade expelling children from the library and closing it (video)