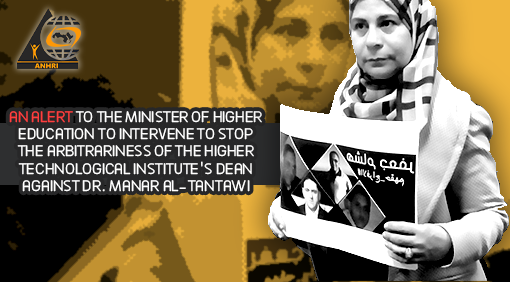 Cairo: 3 June 2021
The Arabic Network for Human Rights Information (ANHRI) said today that Dean of the Higher Technological Institute (HTI), Dr. Othman Muhammad Othman, continues to undermine the higher education law alongside academic norms; when he deprives Dr. Manar Al-Tantawi, wife of former prisoner of conscience Hisham Jaafar, of her right to obtain her habilitation/ professorship degree she received a year and a half ago.  Othman is also refusing to reinstate Dr. Manar Al-Tantawi to her position as Head of Department at HTI, from which she had resigned due to heath conditions before she recovered and requested to be reinstated. ANHRI hence is delivering a warning to the Minister of Higher Education and Scientific Research to stop the crackdown and arbitrariness practiced against Al-Tantawi and intervene to oblige the HTI Dean to implement the decision issued the Supreme Council of Universities to earn her the professorship degree and reclaim her stolen rights.
Despite the appeals, petitions, and lately the legal warnings, reports and complaints submitted by ANHRI's lawyers (for being attorneys for Dr. Manar Al-Tantawi) calling upon the HTI Dean to comply with the law- which states that the oldest members of a department are the most deserving one to head it, which applies to Manar Al-Tantawi, the dean had appointed another member of the teaching staff as acting head of the department although he reached full retirement age two years ago in addition to the fact that he doesn't have a professorship degree, while Al-Tantawi had already served as assistant professor three years before he did.
It is worth noting that Dr. Manar Al-Tantawi was the head of the department at HTI from 2015 to 2016 but she resigned due to health conditions, and when she asked to return to her position, the HTI dean refused.
ANHRI is wondering about the reasons that prompted Dean Othman Muhammad Othman to continue to waste the law and violate its provisions, noting that there is a great divergence in the academic and scientific expertise and efficiency between Dr. Manar Al-Tantawi and the one who heads the department now, as the last has bachelor's degrees in  Automotive and Tractor Engineering with a low GPA, while Manar graduated from the Department of Mechanical Design and Production Engineering with an a Very Good GPA and ranked first in her batch.
This is in addition to the fact that the professorship obtained by Dr. Manar took place in a branch where specialists are scarce in Egypt.
It's worth mentioning that ANHRI released, on 26 April 2021, a statement urging the Dean of the Higher Technological Institute (HTI), Othman Muhammad Othman, to comply with the law and the academic norms, restore Dr. Manar Al-Tantawi her right to obtain the scientific degree as well as her well-deserved position as Head of Department and the consequent restitution of her material and moral rights, and to reinstate her to her position.
For further information: