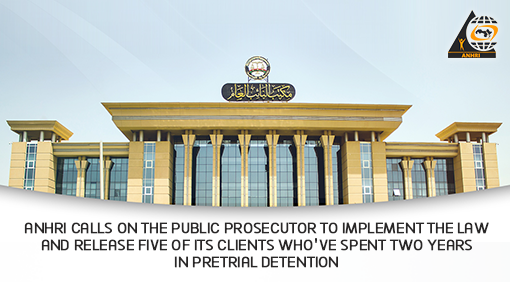 Cairo: 4 May 2021
The Arabic Network for Human Rights Information (ANHRI) calls on the Public Prosecutor to enforce the law and set free five of its clients who have spent two years in pretrial detention. They are: (Imam Hassan Imam, Ahmed Eid Mohamed, Sameh Magdy Mahmoud, Mohamed Fadi Ahmed, Omar Khaled Abdel-Tawab), and have been held on remand since March 2019 pending investigations into Case No. 488 of 2019 Supreme State Security Prosecution.
In early March 2019, following the Ramses Railway Station's train crash, the police forces expanded their suspicion and random arrests of citizens all over Egypt's governorates; as many appeared before the State Security Prosecution on charges of terrorism and spreading false news and were ordered detained thereafter. Since then, the Supreme State Security Prosecution, along with terrorism courts, has constantly and endlessly renewed their detention until it exceeded the two years maximum period.
ANHRI's demand to release these detainees is based on the constitutional rule that necessitates the inevitability of specifying the duration of pretrial detention, as stipulated in Article 143 of the Criminal Procedure Code which states:
"In all cases, the period of pre-trial detention at the preliminary investigation stage and at other stages of criminal proceedings may not exceed one-third of the maximum period of the custodial penalty; standardly set at no more than six months for misdemeanor crimes (delicts), 18 months for criminal offences and two years in case of crimes receiving the life sentence or the death penalty."
Accordingly, the Public Prosecutor is obligated to release ANHRI's clients and other detainees, who are so many; especially since the Public Prosecution hasn't yet completed the investigation nor decided on matter of charging them and it hasn't also brought the defendants to trial before their natural judge to adjudicate their cases upon a judicial ruling.
ANHRI also warned that the severe and devastating damage caused by pretrial detention, especially the prolonged one, and its impact on the lives and future of its clients- including outstanding students at different university stages and employees with their business and jobs that have become threatened- left behind tragedies and hard conditions which the families of those detained have still suffered.
ANHRI confirms that the Public Prosecution's implementation of the law by releasing those detainees is sufficient for revaluating, restoring and respecting some of the rule of law in Egypt by carrying out the country's international obligations. In the meantime, it may constitute an explicit message to the Public Prosecutor's deputies at various prosecutions to pay more respect for the rights of defendants and pretrial detainees which are enacted and guaranteed by the provisions of the constitution and laws, especially after the requests made by their defense lawyers to release them have become mere discarded papers in the prosecution's records.