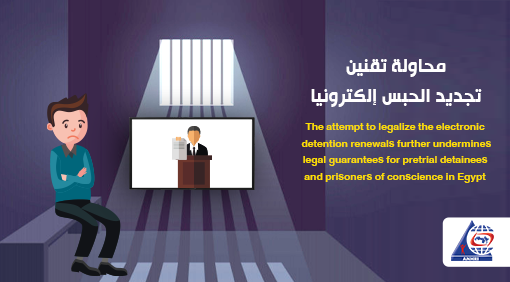 Cairo: 26 October 2020
The Arabic Network for Human Rights Information (ANHRI) announced its rejection of the Justice Minister's statements regarding the plan to conduct detention renewal sessions through video conferencing technology- which means that detained citizens would remain on the screen at one of the prison rooms, waiting for courts to preside over their remand detention- as well as the attempt to legalize the plan by giving it a bogus legal ground.
ANHRI said that the legalization of the electronic detention renewals would undermine the remaining legal guarantees for pretrial detainees, especially those incarcerated in connection with political opposition or the expression of their critical viewpoints that displease the security services. How can then a detainee under the weight of police surveillance which dominate all detention centers file his complaints regarding the ill-treatment or assaults he is subjected to, not to mention the harsh treatment, the denial of medical care or medication, and sometimes the so-called physical and psychological torture and the solitary confinement for several days and months?!
Additionally, pretrial detainees will be deprived of private and individual communication with their defense lawyers; as all their conversations and requests will be on sight, made known or shared by all, and it may even be taken as evidence against detainees to support the indictments issued against them.
ANHRI also affirms that such a plan, if legalized, constitutes a step away from facing the original issue: pretrial detention, which has turned into a criminal punishment over which thousands of innocent people remain behind bars for months and even years without fair investigations and without being referred to a fair trial, in violation of the provisions of the Constitution and the law which stipulate maximum periods of pretrial detention. As a result, the Ministries of Interior and Justice are sparing no effort to build more prisons as it has become an issue of paramount concern to them, especially in the absence of effective state control or oversight over these prisons, to the extent that the security services have started to use the training camps of the Central Security Forces affiliated with the Ministry of Interior as detention centers for those held in pretrial detention.
ANHRI, hence, reinforces its stance rejecting such a move which is planned to be implemented and legalized. It is also addressing the necessity to confront the methodology of the severe expansion of pretrial detention, especially in cases which are based merely on investigative reports conducted by the National Security Apparatus only. The Arabic Network believes that the Public Prosecution should stop adopting the National Security investigations as the sole ground and reason for issuing its successive decisions to incarcerate thousands of citizens. This is should be in conjunction with adopting the implementation of the various precautionary measures- available before the Public Prosecution- as a legal alternative to pretrial detention, which is deemed by legislators and legal jurisprudence as an abhorrent and reprehensible practice that violates the constitutional principle of the presumption of innocence guaranteed for every accused person as long as he doesn't receive a ruling of conviction by the court.
ANHRI calls on the Supreme Judicial Council to resolutely and decisively confront this projective plan (conducting detention renewals electronically) and not to invoke COVID-19 preventive measures; since courtrooms, prosecutions' chambers and detention centers are severely overcrowded with litigants and their families on a daily basis. This in addition to stopping the targeting of prisoners of conscience and all those demanding change and freedoms and putting an end to the abuse practiced against them.
ANHRI also calls on the Public Prosecutor to take a serious stand to support the rule of law by examining and scrutinizing the conditions of those who are being held in pretrial detention in connection with unsubstantiated charges that lack evidence despite being serious accusations such as; joining a terrorist group, disseminating false news, misusing social networking websites in committing publishing crimes. Adding to the farce, the security services accused pretrial detainees of committing such crimes while they had been held in prison for years, which is something unreasonable and contradicts common legal logic. However, the Public Prosecution decided to put those people in jail based on such shameless and blatant allegations, raising questions concerning its role in restraining the security services as it further clamps down on political prisoners.
ANHRI reiterates its stance by calling on legal professionals/ practitioners and those concerned with the values of freedom and justice to deal with such null legalization (conducting detention renewals electronically) as a move that will undermine the constitutional guarantees and rights established in human rights charters.