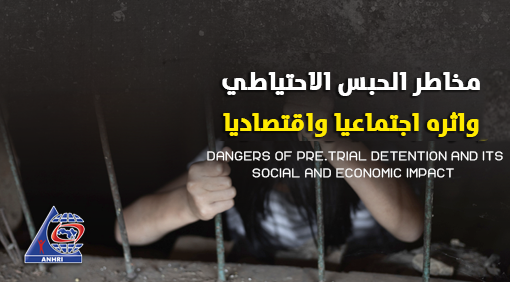 Introduction
Does pretrial detention essential for investigations? 
A question that is always asked specially in political and opinion cases. It is worth mentioning that pretrial detention is "not preferred and it should be used only for critical cases", a it is a kind of freedom deprivation against a defendant, pending investigations. This highlights the  contradiction between respecting private freedom and security and the State's right in imposing punishment. It is known that the basic value states that punishments should not be imposed without fair trial and after a clear conviction. Nevertheless, in political cases, particularly those which are considered by the State Security Prosecution, the cases are usually terminate with a decision of release with precautionary measures or a bail after  spending a time in the prison. Afterwards, a decision of release is issued without considerations of tangible impacts of this detention whether on the moral or material level.
Not to mention that the defendant's name will be always linked to this case for years without taking and legal procedures, making this case an ongoing threat against the defendant.
First: Social Impact
1- Impact on Children:
International conventions and covenants, as well as the Constitution and law, have recognized that the natural place of a child  is at home under the care of his/her  parents, but without these considerations, children in penal institutions and police stations can be held in preventive detention pending an investigation into a case of State security. It is unbelievable that a child who has not been 18 years of age has a plan to destroy the state, has a plan to overthrow the regime, or has terrorist ideas to promote on social media. It is disheartening to note that the papers of many cases may contain only one or two reasons, either that the child has been found of the crime site or the he republish a post to social media. Examples of these children include the vast numbers arrested in the case known as the September 20, 2019, and the case for the same events this year 2020.
2- Impact on Students
It threatens the educational path of students as they exist in an inconvenient circumstances for studying.
It also destroys his/her professional future specially after imposing what is so called "security investigating" as a part of work papers, it is imposed by reality though it is not uttered by law.
Among these cases:
Ahmed Eid Mohamed Hamed:
A student at the Faculty of Law, Halwan University, who lives in Al-Monib, one day while he was going to the university, he went to Al-Monib Metro Station, he bought a ticket as he paid 100 pounds and he received the ticket and the remained money, while counting the money he found a five-pound written on it (you are not alone). When one of the station's security officers observed him, he escorted him to the Security Bureau and from that moment he disappeared for 26 days until he appeared at the end of March 2019 and is still in detention without evidence of any offense. The student, Ahmed Eid, is a A student in his first three years of study at the Faculty of Law, which made him dream of a bright future, but this did not protect him from national security and became an indefinite prisoner. He was prevented from performing his examination. When this student returns to his normal life, ending his studies with high grades, can he join a work that agrees with this superiority, or will the file of this case force him to choose.
In this case, the pretrial detention caused the following:
First, this student was delayed in his educational life because of deprivation of examinations in violation of the law.
Second, the future of this student has collapsed by denying him access to a number of jobs that are compatible with his scientific level.
Change his behavior as a result of his feeling of injustice, as well as mixing him with both those who are convicted of criminal offenses and extremists inside prisons.
3- Impact on Parents
The best interest of the child or the pre-trial detention of the parents?
The decision of the investigative authority, which may be issued to detain a couple in custody or to detain one of them, who is guarding a child, cannot be just a decision issued in the interest of the investigation, nor a non-judicial punishment for this incubator, but a disaster that negatively affects the life of their children. The child is separated from his or her incubator in implementation of the decision of the investigating authority, despite all the powers authorities that the prosecution has to achieve a balance between the interests of the child and the primary investigation, that the principle of the best interest of the child is derived from article III of the United Nations Convention on the Rights of the Child. It is signed and ratified by the Arab Republic of Egypt, which is part of Egyptian legislation, and which affirms that the interests of the child are a priority in all circumstances, whatever the interests of the other parties.
Case 488 of 2019 listed the investigation of the Supreme State Security Prosecution 
The accused journalists Solfa Magdi and her husband Hossam Al-Sayyad
On the ground, a child who does not know the meaning of the term of imprisonment, faces at the most needed time the fate of the missing person, namely the child Khaled Hossam, whose parents are facing preventive detention for about a year on the background of false accusations.
Despite the approval of the Egyptian legislator of the children's law, that if a couple were sentenced to a penalty of deprivation of liberty, the execution of the sentence on one of them would be postponed until the end of the execution of the other, to take into account the life of their child. However, pre-trial detention has become a harsher punishment for the life of a child than a penalty that may be imposed by law on a convicted couple under a fair court order.
Case 1356 of 2019 listed the investigation of the Supreme State Security Prosecution. The accused is the human rights activist Alaa Abd Al-Fattah
Who was arrested during the execution of the term of police surveillance, six months after he resuming his again after spending five years inside the prison in execution of a sentence issued in a case known as (Shura Council events) and in an attempt by Alaa to get closer to his son who was absent for five years. However, the National Security forces arrested Alaa Abd al-Fattah, to find himself before the Supreme State Security Prosecution, facing charges of involvement with a terrorist group to achieve its purposes and spreading false news that would dishonor public opinion and misuse social media, without having legal evidence on these accusations.
Alaa Abd Al-Fattah is approaching a year of pre-trial detention, unable to see his only son, unable to work on spending this child, who is not more than six years old. In addition, the activist Alaa Abd al-Fattah's family was subjected to several violations during their attempts to get some news from Alaa. To the extent that the security forces prevented his family from just receiving a letter  from Alaa to reassure his family and son or to deliver a letter to Alaa to reassure him about his son, who is in great need of his presence beside him.
The family of Alaa faced, in order to deliver or receive those letters, several violations of the security services in which they were subjected to verbal and physical abuse, ended with the arrest of his sister and now she faces the same fate as no one knows when it will end.
This is apart from imprisoning mothers of toddlers and babies and is an example:
Marwa Arafa:
On April 21, 2020, the National Security forces stormed into the house of the translator Marwa Arafa, taking her to an unknown place. Marwa Arafa remained forcibly hidden in an unknown place for two weeks. Afterwards she appeared in the SSSC, facing charges of joining and financing a terrorist group. A decision of preventive detention for 15 days was issued.
Marwa has a baby girl who has not yet completed her second year, and she has distanced herself from her public affairs once she knew her pregnancy, closing her Facebook profile for months, dedicating her time to her daughter and her work a freelance translator.
In addition to other models, children under age have been denied the care of mothers who need it unjustly, such as Abir Al Safti
'Abir al-Safti was arrested twice, the first in the case known as the "the feast detainees" in 2018, while her daughter was four years old, then released with precautionary measures. The second time, security forces arrested 'Abir al-Safti on April 22, 2019, the third day of the referendum on constitutional amendment, while traveling from Cairo to Kafr al-Dawar, where precautionary measures are based on an old case, 'Metro Detainees'.
It is worth mentioning that Abir has disappeared forcibly after her detention for a week, then she appeared in the state security prosecution, which decided to detain her for 15 days pending investigations into a new case related to the referendum on the constitutional amendments held in April 2019. Abir al-Safty, from her pre-trial detention, allegedly tortured and harassed while in detention, sent a letter to her child on her birthday, who came behind bars. "Your 6th birthday, happy birthday, I pray that you are happy, I am so proud of you, I am still looking forward and ask God to ensure you a better future in our homeland," said Abir in the letter, which was included in a drawing of the mother weeping behind bars, and a child who was weeping too. "your next birthday will come with you in a country that loves us and I will not be the same like today behind the prison bars," she said. "Radwa, you are the gift of God, may Lord preserve you and return me back to you my angel."
Abir attempted to commit suicide out of depression because she is separated from her child. In the same month, March 2020, she was released.
4- The impact of the pre-trial detention of a family member on the future of the whole family
Case 1338 of 2019 listed the investigation of the Supreme State Security Prosecution The citizen Nasr Al Sayed Mustafa is accused
A citizen who only hopes to realize his simple dreams, came from Dakahlia governorate to Cairo one day after September 2019 events with his private car to buy some computer spare parts from a well-known commercial center in Cairo, and after he put his car in the garage of "Tahrir Square" and on his way to the commercial center on foot, he was stopped by an officer in a civil uniform who asked him why he was there and asked him to inspect his mobile phone. When he was refused as this demand violates law and constitution, at once the officer took him to a police car, then he disappeared for several days before a public prosecutor appears to be questioned in the above-mentioned case, and after he spent more than two months in pre-trial detention on that case, denying him access to his family, he was released to face a new fate in his life.
His old mother was confined to intensive care, suffering from a psychological collapse, on grief over what happened to her son.
Second, his fiancee, to whom he was about to get married, refused even to accept meeting him as if he is a criminal.
Third, his employer, who maintained computers, refused to return him to work.
Fourth, when he went to recover his car from the garage, the owner of the garage asked him to pay nine thousand pounds as a result of the parking of the car in the garage for all this time during his detention period.
Hossam Moanes case:
On Tuesday, June 25, security forces arrested journalist Hossam Moanes, from his home in Cairo, after breaking into the house and intimidating his wife and children. He was taken to an unknown destination and appeared hours later in the SSSC pending the case 930 of 2019, which is known as the "prisoners of hope" . A 15-day pre-trial detention order was issued. Egyptian Interior Ministry statement said that those arrested planned through their companies to "finance acts of violence against state institutions" and intensify "inflammatory" media calls through social media and overseas satellite channels. The statement accused a group including Hossam Moanes, a journalist and a former official spokesman of the popular movement and one of its founders, Ziad Al-Aleimi, the former parliament member, and journalist Hisham Fouad, member of revolutionary socialists movement, and businessman Omar Al-Sheneti. Hossam Moanies, is a father of two children: Magd 12 years, and Fayrouz 10 years.
As mentioned above, the two children witnessed the arrest of their father, and continued to visit him in prison until the authorities prevented visits to detainees because of the epidemic.
Second: Economic Impacts 
1-Arresting the only financial supporter of a family
Here we talk about a number of cases, as an example: a person appointed in a public or private job, and here the law obliges the employer to perform half of the worker's salary. However, we are in conflict with a number of actions that may lead to total destruction of the detainee's work and family.
An example of this is the day-to-day worker (hunter-farmer-workshop workers – bakery workers) and others. If we imagine the life of this worker married to a housewife with two children, what is the fate of this unemployed wife who has no income other than that of her husband who is in pre-trial detention? What is the fate of the two children who have been with no financial support for an indefinite period of time? and it is known that such circumstances may lead to the complete loss of the job, which depends entirely on the worker's presence at his place of work and if he is absent from it, will only find that another employee is replacing him. Not only has he lost his job but may cause his reputation to worsen, and here we can look at the life of this person who, because of this detention, lost his work, lost his reputation and his family lost him as the only source of livelihood.
Elsewhere, there are some jobs that depend on good reputation such as a lawyer. His detention may lead to loss of work to be done by his current clients, for which he may cause grave losses and for the loss of the interests of his clients. Also how much time this lawyer needs to return to his work.
2- Impact of pre-trial detention on daily and seasonal employment
Such examples include day laborers, or merchants with small and micro-enterprises, if we were to assume that there was a construction worker or a bakery, or a coffee shop or restaurant worker, if he was held in pre-trial detention, leaving a wife (housewife) and one child, there is nothing in the law that protects the family's livelihood, who often have no financial savings to guarantee them the future in such circumstances where they lose the supporter of the family. The disaster lies not only in the research behind the source of income for food and the performance of financial commitments such as paying the bill of water, electricity and natural gas, and the study expenses of this child, but also in the most dangerous way that this worker is renting his home. This threatens the future of that family in keeping their lives in a shelter.
3- Impact of pre-trial detention on the financial obligations of the detainee
Financial obligations are numerous, including what is periodically involved in a person's normal life, such as school expenses, rent, food, clothing, etc., including what is incidental to a person's normal life, such as a commitment to payment or a commitment to a person's physical condition, and in any case, not only the detainee's freedom is violated contrary to what is guaranteed by the Constitution and the law, but also he has to carry a burden of financial debts that he has failed to abide by as a result of his pre-trial detention, which may eventually lead to a new case following his release from pre-trial detention, or to face new debts that never existed before, on the one hand, and on the other hand, the family of the detainee in pre-trial detention faces a great deal of trouble providing a financial resource to cover back-up visits to the detainee. In addition to providing white uniforms to comply with the prison regulations, all these costs to the detainee were not for pleasure or life difficulties, but for the detainee to be held in custody again as a result of the pre-trial detention.
Conclusion
Pre-trial detention, which is no longer a "minimal" precaution but has shifted in many cases, particularly of a political nature, from a precautionary measure taken by Public Prosecutor's Office to a penalty in itself, which has potentially devastating effects.
This requires the Public Prosecutor, with his broad powers, to set more precise and less time-sensitive controls and stringent standards that reduce resorting to it and that it be in a narrower, more risk-taking position.
It is also unacceptable that the prosecution's justification for requesting the extension of pre-trial detention should be to maintain the conduct of investigations without justifying the damage expected to occur in the event of the release of the accused, or that the public prosecution should continue to examine the accused's papers. As which, if the prosecution needs time, this should not be at the expense of the freedom of a person who is likely to be innocent, since the prosecution does not have strong evidence of the charge, the prosecution should not tie a citizen's freedom to a report of investigation.
The effects of unjust imprisonment and torture against opponents of any regime have serious consequences. Freedom of opinion and expression is neither an unnecessary advantage, nor a choice, but a right and a necessity not only to serve society and all its members, but also to serve the regime if it wishes to continue without the growing hatred against it by innocent people.
The detention of mothers and fathers simply for expressing their opinions peacefully, whether by expressing on social media pages, by staging a sit-in and peaceful demonstration, or by doing their work as journalists or translators wishing to communicate the facts to the public, may cause psychological and nervous shocks that negatively affect children, mothers and fathers. It creates resentment and muffled anger.
Blaming the victim and accusing parents of being responsible for their children's crisis because they expressed their opinions is a double crime committed by the totalitarian regime against children and their families, generating citizens who are psychologically stressed, which may negatively affect society and the coming generations entrusted with building the country. This course only transplants unneeded results.
---
---
Darb Site: The letter from Abir Al-Safyt from her prison to her child. Posted: March 2020 Browse by May 2020     https://daaarb.com/%D8%B1%D8%B3%D9%85%D8%A9-%D8%B1%D8%B3%D8%A7%D9%84%D8%A9-%D8%B9%D8%A8%D9%8A%D8%B1-%D8%A7%D9%84%D8%B5%D9%81%D8%AA%D9%8A-%D9%85%D9%86-%D9%85%D8%AD%D8%A8%D8%B3%D9%87%D8%A7-%D9%84%D8%B7%D9%81%D9%84%D8%AA/?fbclid=IwAR1tZuh1UQpi8rot9Rrhq9bMhkXLxEBLf4WmNcVK6dSo1UjICNhOzxGa7LQ