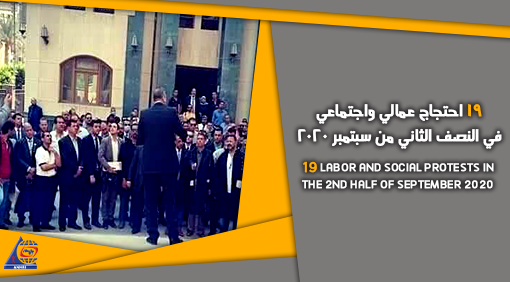 Trade Unions, Labor Protests and Social Movements Monitoring Center
The Trade Unions, Labor Protests and Social Movements Monitoring Center monitored 19 protests, including 8 labor and professional protests in addition to 11 social protests, during the period from 15 September to 30 September 2020.
The reporting period witnessed the government continuing to carry out demolitions of the buildings and houses alleged to be built illegally on state-owned land, which caused violent confrontations between citizens and the security forces in charge of carrying out the demolition campaign. It also saw a perpetuation of the social and labor protest movement which began on September 20 and was faced with repression by the security authorities.
Protest vigils topped the list of labor protests took place from September 15 to September 30, followed by suicide cases took place for economic reasons, then by social complaints in third place.
It has also been noticed that most of the protests took place during the reporting period were organized for social and labor reasons, which confirms the escalation of anger among citizens following the decisions and laws recently adopted by the parliament which were deemed unfair by protesters.
Among the protest vigils that were monitored by the center:
A protest vigil organized by lawyers in Egypt calling for the cancelation of the value-added protocol. The vigil was repeated three times a week in Cairo, Gharbyia and Damietta governorates; as an expression of lawyers' outrage towards such unfair decision.
Among suicide cases: An employee resides in Atfih committed suicide by hanging himself after passing through a financial crisis in Giza governorate, in addition to another suicide case where a person took his life because he couldn't afford his daughter's school supplies.
The 'lawyers' Sector topped the list of protesting sectors with 3 protests, followed by the 'Localities' sector with 2 protests, then came the 'Education, Agriculture and Irrigation' sectors in third place with one protest each.
Distribution of protests in Egypt's governorates
Cairo came at the forefront of the list with six protests, followed Giza with four protests.
Upper Egypt witnessed 6 protests, while the Delta region witnessed 3 protests.
It is noticeable that most of the protests that took place during the reporting period were organized without parties, political movements or unions, which indicates the increasing anger among citizens and their awareness of their duties and rights.
Kinds of violations and their distribution on Egypt's governorates
| | | |
| --- | --- | --- |
| Kind of protests | Number of protests | Governorate |
| 2 social complaints, 2 protest vigils, 1 threatening to strike, 1 strike, | 6 | Cairo |
| 2 suicide cases, one vigil, one protest | 4 | Giza |
| 1 protest vigil | 1 | Gharbyia |
| 1 protest vigil | 1 | Kafr al-Sheikh |
| 1 protest vigil | 1 | Damietta |
| 1 social complaint | 1 | Bani Suef |
| 1 protest vigil, 1 protest | 2 | Aswan |
| 1 gathering | 1 | Luxor |
| 1 suicide case | 1 | Qena |
| 1 suicide case | 1 | Sohag |