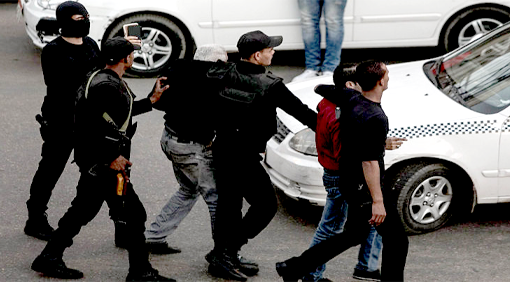 Cairo: 29 September 2020
The Arabic Network for Human Rights Information (ANHRI) said today that the ongoing cruel security grip and the incarceration of poor and innocent people will not lead to anything but anger and rejection of the oppressive economic policies and repressive practices which are rampant in Egypt.
Until yesterday, September 28, the lawyers of ANHRI managed to monitor nearly 600 citizens appearing before the State Security Prosecution as defendants into the Case No. 880 of 2020. This number is expected to extremely increase, and as usual, there is no official data indicating the numbers of those arrested so far. ANHRI also monitored the security services expanding, on a heavy level, the circle of suspicion and random arrest of citizens who live in villages and small neighborhoods throughout Egypt's several governorates, including (Cairo, Giza, Fayoum, Minya, Assiut, Alexandria, Qena, Luxor, Aswan, Suez, Gharbia and Qalyoubia).
Several of the accused citizens, noteworthy, reported that they had been detained for several days at the headquarters of: the National Security Apparatus, police stations, and the Kilo 10. 5 Prison on the Cairo-Alexandria Road, before appearing before the State Security Prosecution as defendants. They are facing harsh charges including; "belonging to a terrorist group, participating in gathering and spreading false news, and misusing the Internet", in addition to other accusations that were pressed against some of the defendants; such as the two children: Hussein Abdel-Raouf, 15, and Ahmed Saber, 13 (a 2nd grade preparatory school), who are both charged with "financing a terrorist group".
Lawyers at ANHRI also monitored the deteriorating economic and social conditions of many of the defendants and how poor they are; as many of them are illiterate (don't know how to read or write). However, the Prosecution accused them of "publishing false news on social media pages", not to mention the terror that had stroked in their hearts when they learned that they are also accused of terrorism!
Most of the defendants also reported that they were randomly arrested (by chance) due to the traffic flow or for being in the vicinity of the places where demonstrations took place, asserting that they have nothing to do with the protest movement nor are they concerned whatsoever with political issues.
ANHRI emphasizes the inevitability of the security services' commitment to detain those arrested in the places designated by law; these places have to be humanly fit and healthy in a way that preserves citizens' dignity and humanity in implementation of Article 55 of the Egyptian Constitution. How can an accused person appear before the prosecutor for investigation while he wears nothing but his underwear? How can he remain being held in such condition for four days, to the extent that he told the investigator to let him put his clothes on, until he (investigator) allowed the defendant's lawyers to buy clothes (pants) for him?
ANHRI calls on the Public Prosecutor to swiftly intervene and order the release of all those arrested in order to preserve the lives of their families that are threatened with hunger, given that most of them are among the extremely poor daily workers. The security services should also stop using police practices in dealing with the citizens' problems and suffering; as poverty and suffering will not come to an end by arresting or cracking down on citizens, rather by adopting fair economic and social policies that guarantee real dignity for citizens.