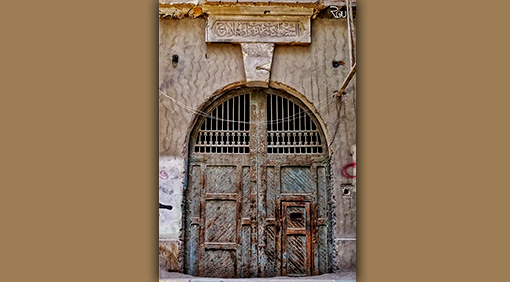 The Damanhour General Prison, known as the Abaadiya prison, was established in 1908, which is defined bysome of the prisoners' families as the "Guantanamo of Al Beheira", in ten acres. El Khieu Abbas Helmi, gave the land to his new prime minister, Boutros Pasha Ghali, one of the most famous symbols of the English colonial period, the judge of the Denshwai Court, and during Mustafa Fahmy's tenure as the interior ministry. The prison is located in the Abaadiya district of Damanhour Center in Al-Beheira Governorate, 165 km from Cairo on the agricultural road, and 45 km from Alexandria.
The prison is surrounded from outside by a stone wall with an intense guard post, up to 8 meters high. From inside, it is surrounded by a 10 meters internal wall with a wire that is about 7 meters high, and has an iron gate. "Abaadiya" prison in Damanhour is one of the largest in Egypt, with 12 large wards (5 of them for political prisoners, 3 for criminal prisoners, a disciplinary center and 3 for women).
It is also the only prison in Egypt where women's wards and male wards are found inside the same public wall.
Each of the wards has two opposite wings, each with 9 cells, each with a capacity of 4 x 5 meters and each with venting hole with a 30 cm x 90 cm, and an iron door with a single hole 10 x 30 cm, and each with a toilet cell.
The cell has about 24 prisoners, although it can only accommodate ten prisoners at most.
Each ward has a 120-meter playground, supposed to be for sporting, with an iron-grid roof. The corridors with air vents overlooking the playground and a 6-unit bathroom with fabric curtains.
Prisoners live in cells according to the nature of the crimes, there is a cell for public funds, a cell for self-crimes, and so on for all crimes, where prisoners are placed in a separate cell for each crime.
The Disciplinary ward is composed of 6 single rooms, each 1.5 by 3 meters in a 7 meter corridor, with a bathroom containing 6 rooms with wooden doors, three of which are for peeing, two for bathing, and one for non-use.
Each disciplinary room has a 30 x 70 cm vent hole with a mesh wire, iron bars, iron doors with one hole, and no electrical appliances or fans with only external lighting.
Inmates at Abaadyia prison suffer from overcrowding, where the prison is designed to accommodate up to 1,800 inmates, but complaints are increasing, bringing the number of inmates to about 3,500, endangering their lives due to poor ventilation and overcrowding.
The prison also includes a clinic staffed by 2 general practitioners (officer) and 3 civilian doctors (assigned), the prison administration contracts with consultants, a room for receiving patients, dispensed drugs and a pressure gauge, it also includes an operations room equipped with the capabilities to perform simple but non-functional operations, though it does not work. The prison also includes a pharmacy, a visit building, a visit inspection room, a kitchen and a library.
The prison was a station for collecting communists in 1951 and 1959, respectively, from which they were transferred to Abu Zabal, Torah and Wahat prisons. The Interior Ministry used Damanhour prison as a station to assemble Brotherhood detainees in 1954.
But since 1974, the prison has been changed, through oral instructions, from then Minister of the Interior Mamdouh Salem, exclusively for criminal offenses.
It has been reserved for both In the 1980s, when General Zaki Badr assigned in the Ministry of Interior, the Interior Ministry opened all prisons, including Damanhour prison, to receive political opponents.
Detainees from all political trends were trapped inside the cells of Demanhor. The prison has been home to most of the Jihadists second and third line leaders since the late 1980s.
The brothers Abboud al-Zomor and Tariq al-Zomor, who were convicted of involvement in Sadat's assassination while attending a military parade on the ninth anniversary of the October war, are among the most famous political inmates in Damanhour prison.
The Prison in Post-Revolution Period:
During the January 2011 revolution, inmates at the Damanhour prison were killed, where a prisoner said, "on Saturday, January 29, they locked us the doors of the wards, they left. They left us 10 days without water or food. We were hit by fire and tear bombs every day. Two prisoners were killed, the doors looked like colanders."
Later on Wednesday, March 2, 2011, the prison witnessed violence in which 12 people were killed and 16 injured, and the injured and the families of the victims, officially accused before the Demanhor prosecution, both the prison detective inspector and the prison chief of police of shooting them.
Al-Masry Al Youm newspaper published some papers about the incident and attributed to me Police Secretary charges against the police officer of being responsible for 12 deaths, including his brother, who was a prisoner too.
Prisoners in Al Abaadyia prison repeatedly complained from overcrowding in the cells, the inadequacy of food meals to the prescribed feeding schedule of the prison authorities, the inadequacy of such meals in terms of quantity and quality, and the lack of regular access to sporting times in violation of the prison regulations.
Along with the lack of lawyers for incapable prisoners to follow the trial and appeal stages. Despite the statement by the Government's National Council for Human Rights to praise the prison and its claim to receive a tribute from the women prisoners, the same statement made by the Council contained recommendations, including:
Overcrowding in the cells visited by the delegation.
The dietary meals of the prisoners do not match the dietary schedules of the prison authorities concerned and the inadequacy of these meals in terms of quantity and type.
A case that suffers a lack of verbal and cognitive and a number of medical-care-needed cases while medical care is not available at the prison hospital.
Absence of regular availability of sporting time to women prisoners, where some can only be sporting every three days, in violation of the prison regulations, according to the view of a number of women prisoners.
The Parliament Member, Amal Zakaria Qutb, a member of the People's Assembly on 'Daam Masr" list Beheira governorate, submitted a complaint to the official of the Parliament's Human Rights Committee about Damanhour prison, stating, "We received complaints from citizens in the Beheira governorate about the suffering of their relatives inside Abaadiya prison in Damanhour, and their exposure to abuse. Physical and verbal, and denying them a visit in many times.
A Message from the prison:
One of the messages of the inmates of Al-Abaadiya prison is the letter of political activist Mahinor Al-Masri, more than two weeks after her imprisonment for violating the law of demonstration, and the letter was published by the lawyer Mohamed Ramadan at Al Bedaya site on 6 June 2014, in which she stated:
" … I do not know what is going on out there, but I can imagine what happens when someone of our "circles" is arrested, cyberspace is filled with the free words of the arrested friend, prison is for freemen, etc.
But since I entered Damanhour women's prison and was placed with ward no. 1 for public money crimes. The women prisoners are mostly held for honest receipts that they could not pay; who was preparing her daughter for marriage, who was collecting money to treat her husband, and who took two thousand pounds to find out that she is indebted with 3 million pounds.
The ward is a small society, the richest get everything she needs and the poor sell her work while she is imprisoned.
The ward is a small society, where women prisoners discuss the state of the country… Here I found support for Sissi, believing that if he wins, he will pardon receipt cases, and there are those who respond because he will hit with a strong hand the terrorist demonstrations – though they sympathize with me – and there are those who support Hamdein because he is her country pal and see that he promised to release prisoners. They would scream that he had pledged to do it just for the prisoners of conscience, and there are those who see it as a charade and that if she were outside, she would have been boycotting the elections.
The ward is a small society… I feel that I am in my family; all of them advise me to give priority to my future when I go out, I tell them that our people deserves the best and that we have not yet reached justice and that we will continue to try to build a better society.
I received the news that Mubarak was sentenced to three years in the case of the Presidential Palaces, I tell them that the regime believes that Om Ahmed, who has been imprisoned for eight years, and six others for checks that do not exceed 50 thousand pounds, is more dangerous than Mubarak, and what future you want for our children in an unjust society.
,,,, In the end, if the slogan of freedom must be raised for someone, then freedom is for Sayeda, Heba and Fatima… Three girls I met in the department are suspected of belonging to the Brotherhood and other charges that reach murder, they have been randomly arrested and their imprisonment has been renewed since January without standing in court.
Freedom for Om Ahmad, whom did not see her children for eight years, and freedom for Om Dina and her family, freedom for Neama who worked to feed her children… Freedom for Farha, Wafaa, Kawthar, Sanaa, Dawlat, Samia, Iman, Amal and Mervet. We know that there are people who will be proud of us, while those women are not going to be mentioned except in family gatherings, down to this classist society, we should hail the truly opressed".
Mahinour Al Masry, 22 May 2014
Cell 8 – Ward 1 – Damanhour Prison
---
1 Report of the Egyptian Initiative for Personal Rights entitled "Martyrs behind bars", p. 5 17
2 A press report entitled "Prosecution" begins investigation into the killing of 12 inmates at Damanhour prison – Al Masry Al Youm newspaper, March 8, 2011, last visit of February 23, 2020https://www.almasryalyoum.com/news/details/117858
3 Al Masry Al Youm newspaper on Friday 18-02-2011, visit July 22020 h ttps://www.almasryalyoum.com/news/details/114569
4  The National Human Rights statement on the visit to Damhnur prison on August 25, 2015, the last visit of June 23, 2020    http://www.nchregypt.org/index.php/media-center/news-arabic/1614-a-statement-the-national-human-rights-for-prison-visit-dmhnor.html
5 The al-Dstour newspaper on March 22017, published on the Revolution today  website , November 27, the last visit of February 20 2020https://www.dostor.org/1321451
6 A report entitled "Mahinor Al Masri in a Message from Damanhour Prison: Freedom to Om Ahmed, who did not see her children for 8 years, freedom to Om Dina and her family", published June 6, 2014 – last visit February 23 2020http://albedaiah.com/node/50464