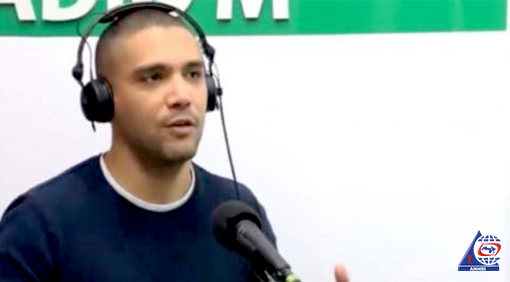 Cairo: 18 August, 2020
The Arabic Network for Human Rights Information (ANHRI) condemned today the ruling issued against young Algerian journalist Khaled Drareni for allegedly "endangering national unity" against the backdrop of covering the civil protests witnessed by the country last year.
On 10 August 2020, the Sidi M'hamed Court in Algiers sentenced Algerian journalist Khaled Drareni , director of news website "Casbah Tribune" and a correspondent for French broadcaster "TV5 Monde" and NGO Reporters Without Borders (RSF), to three years in prison a fine of 50,000 Algerian dinars ($390), on charges of "inciting an unarmed gathering and harming national unity" after he covered the "Hirak" protest movement that lasted for more than a year.
Drareni, who has been held in pretrial detention at the Kolea Prison (west of Algiers), denied the charges when he appeared on trial via video-conference , saying " I just did my job as an independent journalist".
It's noteworthy that Khaled Drareni, 40, is an Algerian journalist who is known for his support of the Hirak protest movement in 2019. He was arrested on 29 March 2020 and had been held in pretrial detention at Kolea Prison in Tipaza, west of Algiers; on charges of "inciting an unarmed assembly and harming national unity", for covering a Hirak anti-government demonstration on March 7.
The demonstrations broke out on 22 February 2019 in Algeria succeeded in forcing former President Abdelaziz Bouteflika to submit his resignation and bring some senior officials in the former regime to trial on charges related to corruption. The protests lasted for a year before they stopped due to the coronavirus pandemic.
ANHRI said: "The ruling issued against Khaled Drareni contradicts the current government's pledge to respect the law and not prosecute those involved in the Hirak Movement, especially after the presidential pardon issued by the Algerian President Abdel Majid Tebboune on the first of last July to release a group of prisoners including activists who have links to the protest movement, on the occasion of the 58th anniversary of Algerian independence."
ANHRI added, "The continued imprisonment of journalists and pro- democracy and freedoms activists doesn't go in line with the Algerian people's revolution that lasted for more than a year to protest against corruption and the authoritarian regime".
ANHRI hence calls for the immediate release of journalist Khaled Drareni as well as all prisoners of conscience and activists involved in the pro-democracy Hirak Movement.