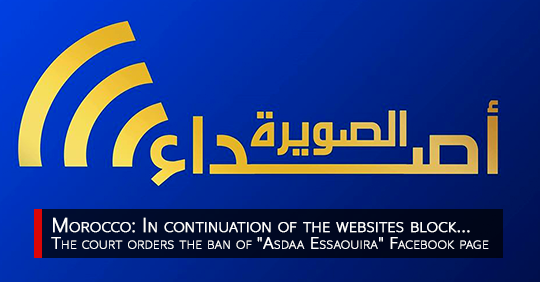 Cairo: 23 February 2020
The Arabic Network for Human Rights Information (ANHRI) has condemned the decision issued by the Court of First Instance in Essaouira on Thursday, February 20, to block the "Asdaa Essaouira" (Echoes of Essaouira) Facebook page, alleging that "its legal status doesn't go in line with the Press and Publishing Law (Act 88-13)".
On Thursday, February 20, the Court of First Instance in Essaouira ordered the ban of "Asdaa Essaouira" (Echoes of Essaouira) Facebook page based on a request submitted by the Public Prosecution demanding the court's president to issue an order to block the page "because its legal status is incompatible with the Law 88-13 on press and publication".
Consequently, complying with the decision, blogger Saeed Ahtouch, the page's admin, announced in a statement that "Asdaa Essaouira has been reluctantly suspended", adding that its activity has been frozen "until further notice" and pending reconciliation, so that he wouldn't be subject to any hefty financial penalties if he continued to open the page.
It is worth noting that the Moroccan authorities have used intimidation against websites' owners and administrators to block at least 1000 websites in the country throughout 2019, after the amendments of the Press and Publication Law came into force on August 15, 2018. This law includes many articles that restrict the creation and running of websites, including that every periodical or electronic newspaper should have a director who is in charge of the publishing of news or statements and this person must have a specialized certificate in the field of journalism; i.e must be a professional journalist.
ANHRI said, "The decision to block Asdaa Essaouira Facebook page is unfair as it violates the right to freedom of opinion and expression. The Law 88.13 contravenes the Moroccan constitution that guarantees freedom of opinion and expression and freedom of the press and prohibits the restriction of these freedoms by any forms of prior censorship. The decision also contradicts Article 19 of the International Covenant on Civil and Political Rights, which codifies the freedom of every person to express his opinion, access information and ideas, and convey them to others by whatever means he chooses. "
ANHRI calls on the Moroccan authorities to stop the harsh campaign against freedom of publication and freedom of the press. It also calls on all civil society organizations and defenders of freedom of opinion and expression to work on the amendment of Law 88.13 in accordance with the Moroccan constitution and international human rights covenants.