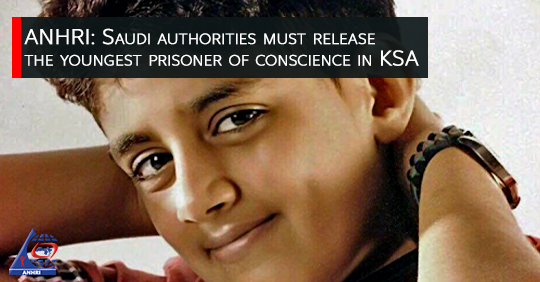 Cairo: 16 February 2020
The Arabic Network for Human Rights Information (ANHRI) condemns today the ruling issued by the Saudi Specialized Criminal Court (an exceptional court) to imprison the child Murtaja Qureiris for eight years and prevent him from travelling for an equal period, against the backdrop of his participation in the 2011 protests.
On Wednesday, 12 February 2020, the Saudi Specialized Criminal Court passed a final verdict     jailing the young boy Murtaja Qureiris for 8 years followed by 8 years of travel ban; for allegedly participating in a children's bike protest march that took place in 2011 in the Kingdom's eastern region demanding the Saudi authorities to stop discrimination against Shiites and to respect human rights.
It is worth noting that Murtaja Qureiris is the youngest prisoner of conscience in Saudi Arabia. He was arrested at the age of 13 in September 2014. He was detained and tortured in the Juvenile Detention Center in the "Dar Al-Mazda" city in al-Dammam, before he was transferred to the Investigation Prison in al-Dammam, and during his detention, Qureiris was denied access to a lawyer. Thereafter, he was referred to the Specialized Criminal Court, an exceptional anti-terrorism court set up in 2008 and increasingly used for cases pertaining to human rights activists and protesters.
The Public Prosecution called for the execution of Murtaja Qureiris after pressing against him a series of charges, including "terrorism and incitement to rebellion", but it retracted its call for execution amid severe criticism from international human rights institutions following a report published by CNN on 8 June 2019.
The director of ANHRI, Gamal Eid, said:  It is no secret that Saudi Arabia has a notorious record regarding unfair trials, the use of torture to extract confessions, and the use of death penalty against political dissidents, but in the case of the child Murtaja Qureiris, it went too far turning a blind eye to all human rights and humanitarian values. This unfair ruling clearly reveals that Saudi Arabia's claims of reforms are nothing but superficial and bogus changes to a miserable reality, as well as a failed attempt to distract attention from human rights violations, especially freedom of opinion and expression and freedom of peaceful assembly."
ANHRI called on Saudi authorities to comply with human rights values, particularly the right to peaceful assembly and the right to life in addition to child rights, and to release the child Murtaja Qureiris after the government has stolen his childhood years.