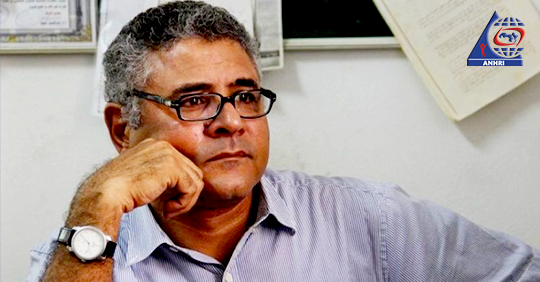 Cairo: 12 September 2019
The Arabic Network for Human Rights Information (ANHRI) said today that Cairo Criminal Court will be considering, on Saturday September 14, the appeal submitted by ANHRI's executive director "Gamal Eid" challenging the ongoing travel ban issued against him, which is deemed not only arbitrary for being issued for political reasons but also illegal violating both the law and the Constitution; as it lasted for nearly 4 years while the law stipulated that it is not permissible for the travel ban to continue for a period exceeding two years.
On 4 February 2016, ANHRI's director Gamal Eid was surprised to be prevented from traveling while he was at Cairo airport to board a flight to Greece's capital "Athens", without being informed of the reasons behind the ban, and without even informing him that a travel ban had been issued against him.
Then he, unofficially and while considering the request to seize his funds, learned that the decision was issued by the investigating judge in the Civil Society case No.173/2011. ANHRI's director didn't file an appeal against the travel ban at that time because he was for the investigating judge to correct such mistake and the legal arbitrariness he is facing; either by exceeding the two-year period since issuing the decision, or by ordering the acquittal of all the defendants involved in this fabricated political case. This is in addition to the fact that Eid hasn't been summoned or interrogated during all this period which approaches 4 years.
Nevertheless, the investigating judge did not fix the mistake and the travel ban continues to be targeting ANHRI's director based on false and fabricated investigations mostly conducted by a National Security officer named "Mahmoud Ali Mahmoud". Such a matter raises further doubts about the nature of this retaliatory case, which aims to punish human rights defenders at independent human rights organizations for their ongoing exposure of the rampant human rights violations in Egypt.
ANHRI's executive director Gamal Eid said: "All what we hope is that the Criminal Court rectify such grave mistake that constitutes an encroachment on the law, the Constitution and our rights. We hope the court restores the sovereignty of the law and the impartiality of the justice system, especially since the verdict we expect shall be handed down by the same judge who ordered the acquittal of all the foreign defendants involved in the case, all of them, in the same case; the case of the civil society that spares no effort to defend the rights of citizens, and the only crime that it commits- based on the acquittal verdict- is that it stands away from the group of hypocrites".