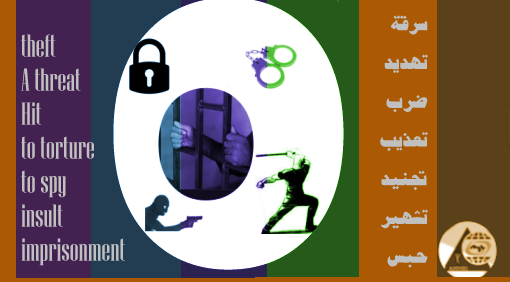 The seizure of ANHRI's headquarters, documents and furniture, with the knowledge of individuals close to the security, and with help from Abdeen Police Department and the Abdeen Prosecution, and until today, ANHRI has not retrieved its furniture and documents since 2013.

The confiscation of Wasla newspaper, which was published by ANHRI since 2010, arresting the workers of the printing press and stopping its release. 2015.

The decision to ban ANHRI's founder and director from traveling in February 2016, in connection with the civil society case, Case 173 of 2011, which is still in place to this day.

The decision to freeze the assets of ANHRI's founder and director in 2016 in connection with the same case, which is still in place to this day.

Defamation campaigns against ANHRI's director, his daughter (who is a minor) and his wife, from 2016 until today.

The shutting down of all of "Al-Karama" public libraries (six public libraries in poor neighborhoods) founded by ANHRI's director, Gamal Eid, with the money of the Roland Burger Human Dignity Award he received from Germany, a police closure and without a judicial decision.

Investigating ANHRI's deputy executive director, Rawda Ahmed, and her release on a bail of 20 thousand Egyptian pounds, pending Case 173 of 2011 against civil society. 2017.

Blocking ANHRI's website, then blocking Katib website, which is affiliated to ANHRI, 9 hours after its launch. 2017

The National Security summoned two of ANHRI's lawyers and pressured them to quit their job at ANHRI. 2017

The arrest of ANHRI's IT & networks officer and torturing him, and he was forced to flee outside Egypt. 2018

Increasing the frequency of defamation, smear and incitement against ANHRI and its director, especially after meeting with French President Emmanuel Macron in January 2019.

Stealing the car of ANHRI's director, Gamal Eid, from under ANHRI's headquarters, by an officer accompanied by other individuals. Although there is a video recording of the theft, the car has not been returned and the incident was shelved. September 2019

The brutal physical assault by armed officers carrying radios on ANHRI's director, Gamal Eid, which resulted in breaking his ribs, and stealing items from him. October 2019

The arrest of ANHRI's lawyer, Amr Imam, who has been imprisoned since October 2019 until now.

The Public Prosecution, despite having heard witnesses and having watched security cameras' footage that recorded the physical assault incident, shelved the investigations and contributes to the impunity of the perpetrators. November 2019

Smashing the car of the deputy executive director, Rawda Ahmed, which was borrowed by ANHRI's director and parked under his house, by armed officers carrying radios, and the prosecution has shelved the incident. November 2019

Repeated phone threats and despite giving the prosecution the phone number, the prosecution has shelved the incident. November 2019

Armed police officers in private cars assault ANHRI's director and douse him with paint next to his home, and the prosecution contributes to their impunity after an unfair investigation. End of December 2019

Police summons for some of ANHRI's employees in an attempt to pressure them to work as informants on ANHRI for the national security.

The arrest of one of ANHRI's researchers from May 2020 until August 2021.

Lawsuits filed by lawyers close to the security against ANHRI and its director, accompanied by intense defamation campaigns in the media.

An unofficial message that it will not be possible for ANHRI to continue under the same name in case it decides to register according to the NGOs law, and that work in the areas of freedom of expression, press freedom or the conditions of prisons and prisoners of conscience, will not be tolerated. In addition to being accused in the civil society case that started 11 years ago, which makes it difficult to sign papers or deal with official bodies.
Out of concern for the safety and freedom of the team, and due to our inability to deal with such brutal police violations, we decided to suspend our work as an organization, and continue as individual lawyers, to defend human rights and the right of Egyptians to a state of the rule of law.
ANHRI's team
ANHRI's founders Gamal Eid & Rawda Ahmed
Monday, January 10, 2022.