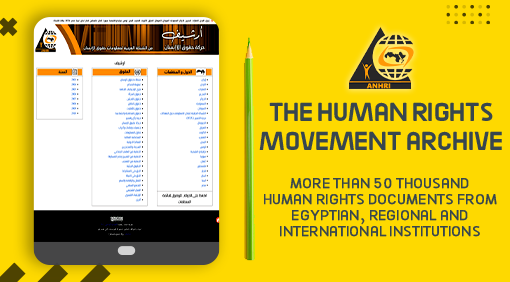 Cairo: December 7, 2021
The Arabic Network for Human Rights Information – ANHRI announced today the launching of the human rights movement archive, which includes more than 50 thousand, Egyptian, Arab and international, human rights documents issued by Egyptian, regional and international human rights institutions and organizations, during the ten-year-period in which ANHRI was posting and hosting the publications of around 300 human rights organizations; from 2004 to 2014.
This archive is made available by ANHRI on the occasion of the International Day for Human Rights, which is coming up in a few days on the tenth of December, so that any human rights institution or organization would be able to view and preserve its archive, as part of its history and memory, which allows it to review and appreciate its positions, in addition to the right of countries and societies that encompass these institutions to remember and know the positions and initiatives of these institutions and the extent of their support for the rights and freedoms of these societies.
ANHRI, as it releases this important archive, has endeavored not to exclude or omit any publication, whether it is a statement, report, appeal, or initiative, and also all institutions hosted by ANHRI or those it re-published their publications, regardless of whether the institution in question continues to operate or has stopped, whether it is an independent institution or one that has colluded, and whether ANHRI agrees or disagrees with it, because the history of the human rights movement, including its victories, battles, failures, complicity, and legal and human rights struggle, deserves to be looked at, reviewed and evaluated, and because ANHRI believes in and exercises freedom of information in deed and not just in words.
ANHRI has also thrived to make browsing the archive website easy and simple for the public and institutions, where it is possible to choose and navigate, by the state, the institution, the year, the right, and it has also classified all institutions by the state or geographical region they belong to.
ANHRI's director lawyer Gamal Eid said, "Many human rights organizations did not have a website of their own documenting their activities and publications, and even when these institutions launched their websites, they were having difficulty accessing their old publications, and this archive belongs to them, and now it returns to them. It is their right and the right of their audience to know it. This is what we had in mind, and we hope that we have returned what we had for safekeeping to its rightful owners; the institutions and the public."
Eid added, "The publishing is not over yet. We launch the archive, although it has not yet been completed, but it includes so far more than half of the posts and publications of these institutions during the ten years that ANHRI's archive covers, when the compilation of the publications of these institutions was one of its main roles. The publishing continues, and any remarks, advice, or even criticism are welcome, so that the archive is made available in the best way possible."