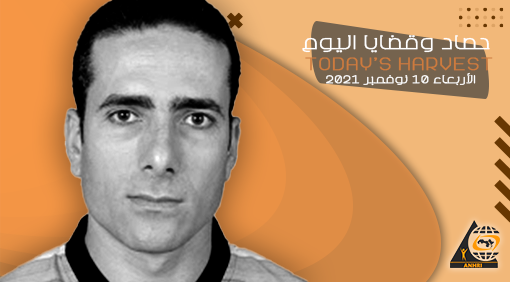 Issued decisions
– Cairo Criminal Court's 5th terrorism circuit adjourned the trial of 22 defendants, including 10 detained in the case known in the media as "ISIS-Al-Omranyia, for the hearing of 10 January to include the exhibits.
– The first terrorism circuit sentenced two defendants to life imprisonment and one defendant to 15 years in prison in the case known in the media as "ISIS- Al-Zawyia Al Hamra".
– Al-Mansoura Criminal Court sentenced 8 defendants, including 4 police officers from Gamsa maximum- security prison, to 7 years in high security prison for being convicted of killing an inmate from the Gamsa prison.
– Al-Mansoura Criminal Court sentenced 8 lawyers to one year with force and labor and police surveillance for a similar period, while it ordered the suspension of the execution of the sentence for a period of three years, for being accused of using cruelty and violence against public officials; the Deputy Public Prosecutor at Belqas Prosecution and the Secretary of Investigation on the Prosecution for unjustifiably forcing them to refrain from performing one of their duties.
Decisions not issued
– The Fourth Circuit of Terrorism at the Cairo Criminal Court has considered the detention renewal of 87 citizens in the following cases: 1413 of 2019, 1116 of 2020, 1000 of 2021, 991 of 2021, 984 of 2021, 955 of 2020, 936 of 2021, 915 of 2021, 911 of 2021, 865 of 2020, 853 of 2020, 662 of 2020, 628 of 2021, 626 of 2021, 620 of 2021, 585 of 2021, 482 of 2021, 29 of 2021.
– The Zagazig Criminal Court has considered the appeal submitted by Quranic teacher Reda Abdel Rahman against his pre-trial detention order issued in Case No. 3418 of 2020 Kafr Saqr State Security.