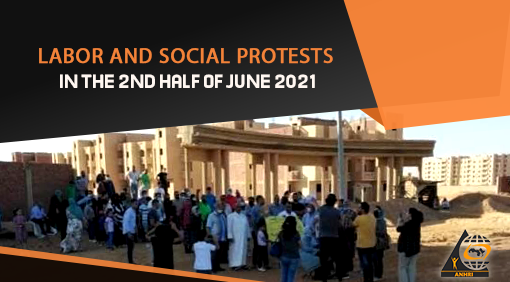 Introduction:
Eight social protests were monitored during the second half of June 2021, while the reporting period didn't witness any labor protests.
One of the reasons behind these protests is to reject the government's policies concerning the expropriation and the demolition of their homes.
The reporting period also witnessed two suicide cases and protest cases (protests organized by owners and purchasers of housing units).
The details of social protests:  
| | | | | |
| --- | --- | --- | --- | --- |
| Kind of protests | Number of protests | The protesting sector | The geographical region | Details of the protest |
| collective complaint | 1 | Residents and residential neighborhoods sector | Cairo- Almaza area | The people of the Almaza area in the Heliopolis neighborhood collect signatures rejecting the expropriation of and the demolition of their homes for the public benefit as well as the expansion of the road leading to the New Administrative Capital |
| Gathering | 1 | Residents and residential neighborhoods sector | Giza- Imbaba | Parents of technical diploma students gathered at Imbaba Industrial School for their children not having seat numbers |
| Protest | 1 | Residents and residential neighborhoods sector | Giza- 6th of October | A protest vigil organized by for the owners of the "Quiet Knoll" housing units after they were prevented from entering the project spot for administrative measures |
| Strike | 1 | Residents and residential neighborhoods sector | Assiut- Abu Tig Center | A collective strike by kidney dialysis patients in villages and the center of the city of Abu Tig in Assiut Governorate, to protest their transfer to Sadafa and Al-Ghanayem Hospital |
| Collective complaint | 1 | Residents and residential neighborhoods sector | Assiut- Dayrut Center | A collective complaint by the farmers of the Dayrout Center in protest against the lack of chemicals in the Agricultural Association |
| Suicide | 1 | Residents and residential neighborhoods sector | Giza- Boulaq El Dakrour area | An African maid committed suicide after being fired from work in Giza |
| Suicide | 1 | Residents and residential neighborhoods sector | Cairo- Helwan | A young man committed suicide after passing throught financial hardship in Helwan area |
| Protest | 1 | Residents and residential neighborhoods sector | Cairo- Nasr City | A group of housing units' purchasers in the Arena City Towers project organized a protest sit-in in front of the company headquarters due to the delay in handing over their units |
| | | | | |