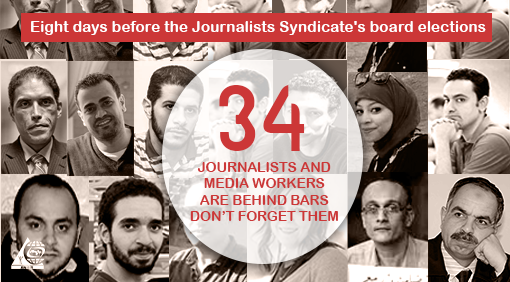 Cairo: 11 March 2021
The Arabic Network for Human Rights Information (ANHRI) is launching today a campaign to remind the candidates running for the Journalists Syndicate's council membership seats in the syndicate's elections, which are scheduled to be held on 19 March 2021 (8 days from now), that there are 34 male and female journalists and media professionals who are being held in pretrial detention mostly over opinion cases in addition to the journalists sentenced to prison. Some of them have exceeded 8 years in jail such as journalist Mohsen Rady, others have spent 7 years in prison such as Magdy Ahmed Hussein and Abdel-Rahman Shahin, and some have spent 6 years such as journalist and researcher Ismail Al-Iskandarani.
The Journalists Syndicate's board midterm elections came amid harsh onslaught of attacks against journalists and the journalistic work which have reached the targeting of their personal freedom; as many of them are deprived of their liberty and continue to languish behind bars for nothing other than their insistence to carry out their work and for the mere expression of their opinion.
Also, many of journalists and media professionals have been forced to leave Egypt to preserve their freedom and protect their journalistic work from falling prey to hypocrisy or imprisonment.
Additionally, a lot of journalists have been subjected to unemployment and deprivation of work in light of the domination of the one-opinion policy and the absence of professionalism after official and security institutions took over most of media outlets and newspapers, while controlling the few remaining newspapers and private media platforms.
ANHRI believes that the impetus accompanying Journalists Syndicate's electoral process is an opportunity to remind about the journalists and media workers who are being held behind bars in Egypt, and to bring their issue back under the spotlight, especially that some of them have been imprisoned for many years without serious action by the Syndicate's board.
ANHRI urges all candidates, whether those running for the seat of Journalists Chairman or the syndicate board membership, to give priority consideration to the issue of the detained and imprisoned journalists and to consider their freedom the most important concern.
From today until the elections day scheduled for March 19, ANHRI will continue to recall, on a daily basis, the names and information of the detained/imprisoned journalists, perhaps this reminder will contribute to reviving their grievances and issues which have been forgotten for many years, during which their lifetimes are being eroded behind bars and whose suffering and their family's continues to mount.