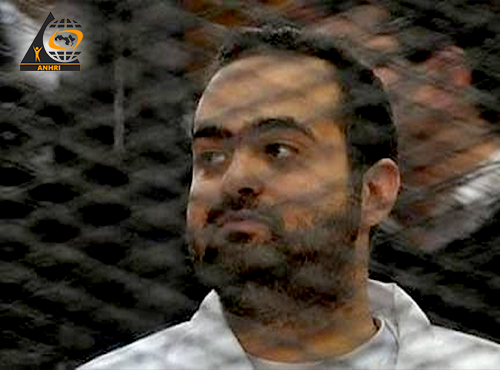 Cairo: 22 February 2021
The Arabic Network for Human Rights Information (ANHRI) deplored, today, the violations committed against activist Mohamed Adel during his detention renewal session before the head of the North Mansoura Public Prosecution. As reported by his lawyers, Adel was subjected to verbal abuse and was violently pulled from his clothes, while appearing before the prosecutor inside the investigation room, in the almost deliberate absence of his lawyers. He was brought before the prosecution earlier than scheduled, as he appeared in the investigation room at exactly 9 AM. His defense requests and pleas that he tried to prove in the detention renewal session's record were also turned down, after the Prosecution's head instructed the security force/ guards to bring Adel back to his jail pending the Case No. 4118 of 2018 Sherbin Administrative.
It's worth mentioning that Mohamed Adel had been held in remand detention for more than two years in connection with Case No. 5606 of 2018 Aga Administrative, until the Criminal Court ordered, on 27 January 2021, his release on bail. However, Adel and his lawyers were surprised at a decision ordering his re-detention pending the Case No. 4118 of 2018 Sherbin Administrative, entering a new episode in the plight of the prolonged pretrial detention that violates all values of justice.
ANHRI calls on the Public Prosecutor to enable Mohamed Adel to practice his legal rights in justly appearing before the judiciary in the presence of his lawyers, prove all his requests and defense pleas, and to open an urgent and impartial investigation into all the violations he was subjected to this morning while appearing before the North Mansoura Prosecution in the absence of his lawyers.
ANHRI also urges the Public Prosecutor to instruct the prosecution's heads and chiefs to improve the treatment of detainees and prisoners of conscience, so that the Public Prosecution will not become a litigant or opponent. Enough the abuses they currently face at the hands of the National Security apparatuses.