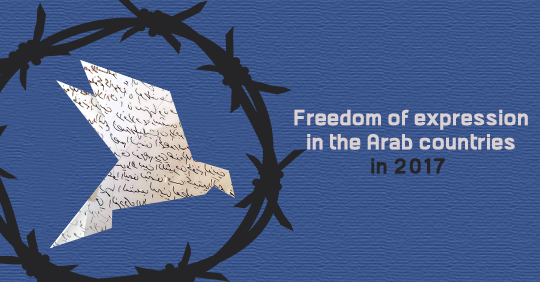 Introduction
There isn't the least doubt that the tense political relations between states in the Arab region along with the internal policies and practices of violence have greatly affected the situation of freedom of expression.
The spread of weapons in the hands of some religious groups and the absence of the state's capacity to impose the law have caused the impunity of the perpetrators.
Some Arab governments exploited the situation in the region to impose a suffocating siege on freedom of expression and to prevent the peaceful transfer of power.
In 2017, the conflict between Iran and the Gulf countries intensified, as the Gulf States accused Iran of meddling in its internal affairs, in addition to severing ties between Saudi Arabia, Bahrain, the UAE and Egypt on one hand, and Qatar on the other. The civil war in Libya has been ongoing since dictator Muammar Gaddafi used heavy weapons against his people during the revolution of 17 February 2011.
The Saudi-led coalition war against ousted President Ali Abdullah Saleh and Al-Houthi forces in Yemen continued, in order to enable President Abdurbo Mansour Hadi to rule the country.
Meanwhile in Iraq, the Iraqi government has been able to liberate Iraqi cities from ISIS. In Syria, it seems that the situation is in favor of President Bashar Al-Assad's continuation to rule despite the killing of thousands of victims and the displacement of millions of refugees inside and outside Syria.
2017 could be called the year of finishing thwarting the attacks of citizens during the Arab Spring calling for freedom and social justice, it is also the year to demonize the Arab Spring revolutions and hold them responsible for the crises suffered by citizens, ignoring that these crises were the cause of the revolutions of the peoples of the region in 2011.
Freedom of expression in the Arab countries in 2017 pdf