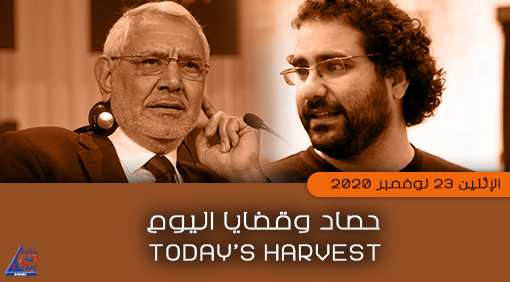 Issued decisions
– South Cairo Criminal Court's circuit 28 ruled to include blogger and activist Alaa Abdel-Fattah, Dr. Abdel-Moneim Abo El-Fetouh, lawyer Mohamed al-Baqer and others on the Terrorist Entities List for a period of five years based on the requests No. 1 of 2020 and No. 2 of 2020 regarding terrorists and terrorist entities in connection to Case No. 1781 of 2019 State Security.
– The First Circuit at the Alexandria Economic Court of First Instance ordered the acquittal of Dr. Abdullah Sorour, a faculty member of at Alexandria University's Faculty of Education, from the accusation attributed to him by the university's president (as he accused Sorour of disturbing him and misusing the social networking website Facebook) in connection to No. 625 of 2020.
Decisions not issued
– Cairo Criminal Court's 1st circuit is presiding over the trial of 215 defendants in the case known in the media as "Helwan Brigades", but hasn't reached a decision so far.
– The State Security Prosecution is considering completing the investigation with the executive director of the Egyptian Initiative for Personal Rights Jasser Abdel Razek in connection to Case No. 855 of 2020 State Security, but hasn't reached a decision so far.
: