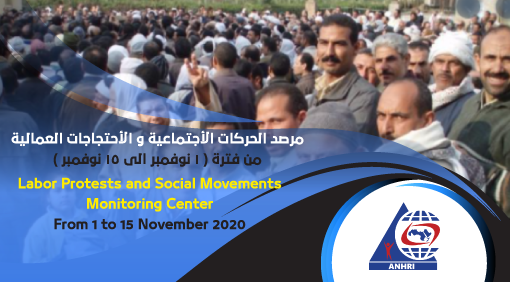 The Labor Protests and Social Movements Monitoring Center monitored 16 protests, including 10 social protests in addition to 6 labor protests during the reporting period, which witnessed a significant escalation in demands for the right to work and the right to housing.
Surprisingly, this period witnessed the emergence of new protest sectors which have neither political affiliation nor union or labor connection, as they spontaneously come up.
First: Protesting methods
"Protest vigils" topped the list of labor protests took place during the reporting period, followed by cases of "threatening to protest – suicide" with 3 protests each, followed by cases of "complaints and sit-ins" in third place.
Protest vigils:
The security services arrested a group of people participating in a protest in front of the High Commissioner for Refugees in the 6th of October City
Dozens of parents of language school students in the Al-Montazah Educational Administration, east of Alexandria, organized a protest vigil in front of the Administrative Prosecution headquarters in Mahtet Al-Raml district to denounce the school tuition fees increases
Technical education students organize a protest in front of the Ministry of Technical Education
Dozens of nursing staff in Port Said hospitals organized a protest against their unpaid salaries
Threatening to strike: 
Farmers in Kafr Shukr Center in Dakahlia governorate protested the practices of security men after storming their agricultural lands and damaging their crops
Railway train drivers protested at Ramsis railway  Station after their colleague was sentenced to nine years in prison
Residents of Al-Mandoura village in Kafr El-Sheikh Center protested the results of the parliamentary elections
Suicide cases: 
A salesman threatened to commit suicide in the Suez Canal area for failing to be given a shop in the Port Fouad commercial market in the Suez governorate.
High school student commited suicide by hanging himself after passing through to a financial crisis in Alexandria governorate
A citizen sets himself on fire in Tahrir Square in Cairo
Sit-ins: 
Workers of Nag Hammadi Aluminum factory compound staged a sit in
The security services dispersed by force a sit-in organized by a group of Sudanese people following the killing of a child in Giza
Strikes 
An employee went on a hunger strike demanding to meet the governor of Minya
Collective complaint:
Students at the Social Service Institute in Alexandria filed a collective complaint against Professor Muhammad Mahdaly for his continuous insult to Islam throughout his lectures
A group of workers at the German factory "Lyoni" for auto rotors submitted complaints against the factory's administration to protest the arbitrary dismissal of 600 workers
Blocking off roads
Supporters of a parliamentary candidate blocked the road in Dakahlia governorate to protest the elections result
The protesting sectors
'Residential neighborhoods' Sector topped the list of protesting sectors with 4 protests, followed by the 'education and scientific research' sectors with 3 protests each, then came the 'the state's workers and the foreign community' sectors with two protests each
Each of 'the health sector – private sector employees – business sector workers- railway drivers – the farmers and peasants' sectors, with one protest number.
Distribution of protests in Egypt's governorates
Cairo came at the forefront of the list of the protesting governorates with 4 protests, which is the highest among all governorates, followed by Alexandria governorate with three protests.
In third place, each of Giza and Dakahlyia governorates shares two protests for each;
Followed by the governorates of 'Kafr El Sheikh – Port Said – Minya – Qena – Suez' with one protest per each.
Fourth: Distribution of protests in Egypt's governorates
Kind of protests
Number of protests
Governorate

Threatening to protest

Protest vigil

 Collective Punishment

1 Suicide

4
Cairo
1 Collective Punishment

Protest vigil

Suicide

3
Alexandria

Sit-in

Protest vigil

2
Giza
1 Blocking roads

1 Threatening to strike

2
Dakahlyia

Threatening to strike

1
Kafr Sheikh

Protest vigil

1
Port Said

Hunger strike

1
Minya
1 Sit-in
1
Qena
1 Threatening to strike
1
Suez