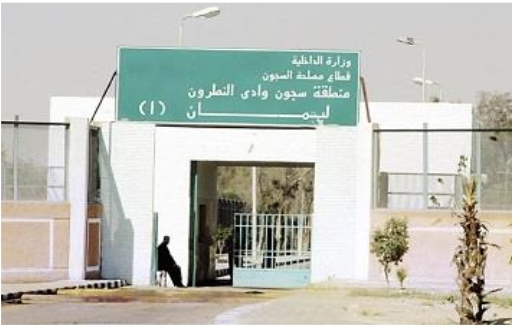 The prison's origin and location: 
Wadi al-Natrun Prisons Area, which is dubbed by some people as 'The valley of Hell', was established in September 1994, amidst the era of ousted President Muhammad Hosni Mubarak and the then Minister of Interior Major General Hassan al-Alfi. After its establishment, inmates at Tora and Abo Zabal prisons began to be transferred to it.
The Wadi al-Natrun Prisons Complex is located at km 92 of the Cairo-Alexandria Desert Road on the outskirts of the Wadi al-Natrun valley at the entrance to Sadat City from the southwestern side of Beheira governorate. It consists of four prisons: Wadi al-Natrun 1, Wadi al-Natrun 2, Lyman 430 and Lyman 440.
The number of inmates in the four prisons is estimated at 13,500 which we will address each separately in detail in this report.
How can we arrive at Wadi al-Natrun prisons?
The most important way to reach the prison is: A parking lot designated for Wadi al-Natrun transportation vehicles, called 'Meshaal Station' that directly lead to the prison.
Wadi al-Natrun Prison: From the inside 
The Wadi al-Natrun Prison Complex is a group of prisons affiliated with the Egyptian Prisons Authority, headed by the Assistant Minister of Interior, however each prison has its own separate administration.
Wadi al-Natrun Prison Complex are surrounded by a fence on the side of the road, about 4 meters high, with three gates. The first gate leads to Lyman 430 and the second one is located on the complex's wall, and is considered the main gate through which all visits are distributed to the prisons (430 and 440), while the third gate leads to only Lyman 440. Wadi El-Natrun Prison 1 is situated outside the complex away from the other prisons; at km 97 of the Cairo-Alexandria Desert Road. In other words, there are four prisons in the complex:
Wadi al-Natrun Prison 1
Wadi al-Natrun Prison 2
Lyman 430
Lyman 440
Three prisons are within the perimeter of the complex: Lyman 430, Lyman 440 and Wadi Natrun Prison 2, each of them has one single wall and individual departments/administrations, whereas the fourth one (Wadi al-Natrun Prison 1) is located outside the complex, i.e. on the desert road.
It's the first prison in Wadi al Natrun Prison Complex, and it is about 500 meters away from the public road. It was finally established in September 1994, and it has a capacity of up to 1600 prisoners.
All its wards are designated for political detainees. Each ward contains 18 cells and 2 bathrooms. Its cells are shaped like the letter H and includes a special place for practicing body exercises, extending five cells in length, and 6 meters in width and is surrounded by high walls and fences. The prison contains solitary confinement jail cells "disciplinary", which are located in ward 1 and 2 (A), a cell measuring 4 x 6 meters and 4 meters high and its walls and floor are made of armored concrete up to 30 cm thick. Each of its cells has 3 openings: one above the cell door, with an area of 250 cm x 20 cm, interspersed with iron bars and very narrow mesh wires. In the opposite of this slot, there are two adjacent openings where no sun or air can enter, each is 100 cm x 20 cm and 3 meters high from the cell door, and they both overlook another cell behind. The last two slots were established in May 1996, after many detainees had begun to suffer chest diseases and shortness of breath 'dyspnea'.
It is located at the 97th kilometer of the Cairo-Alexandria Desert Road, about 5 km away of Sadat City. Its main gate is located at about 50 meters from the road on the right side towards Alexandria. The prison is surrounded by a concrete wall; seven meters high and extends for a distance of 500 and a width of 300 meters. The prison consists of seven wards, four of which are designated for political detainees and the other three for criminals. The number of prisoners there is estimated at 2,500, ranging from criminals and political detainees, distributed over 72 cells.
Aside from political detainees, the prison includes those who are imprisoned over criminal cases and receive high-security prison or life sentences. The prison's inmates are allowed only one visit every 15 days besides the exceptional visits that are granted on official occasions. Prisoners in Wadi al-Natrun Prison 1 are categorized according to the accusations attributed to them, and they are distributed on wards that are open from 8 am to 3 pm, except on Fridays and public holidays. Inmates are not allowed to leave their wards except in rare cases, such as going to the hospital, for example.
It is located within the perimeter of the Wadi al-Natrun Prison Complex and is surrounded by a single fence, whose height is about ten meters, and it has one gate for entry and exit made of two layers of steel and a height of about six meters. Lyman 430 consists of 12 wards, each is divided into two departments, each of which is divided into 9 rooms that are divided into two parts: one has five cells and the other has four cells, in addition to a number of "exercise" slots. The prison holds about 4,700 inmates distributed over the 12 wards. Each of the prison's cell contains one bathroom and five small openings for ventilation.
Leman 430 Prison has an execution ward along with solitary confinement jail cells "disciplinary".
The prison's administration building is located in front of the entry and exit gate. To its right, there is the 'visitation' building that contains two entrances: one facing the prison entry gate (for the entry of visitors) and the other one is at the back of the prison directly leading to the prison wards and hospital, to its right the execution ward is situated.
The third gate leads to Leman 440 Prison. It is located inside the Wadi al-Natroun Prison Complex, fenced with special guard towers and has one gate for entry and exit. Lyman 440 consists of 12 wards, each of which contains 18 cells. It can hold up to 4,700 inmates.
Treatment of prisoners:
Wadi al-Natrun prisons are among the toughest prisons in Egypt. Families of its prisoners always complain about the suffering they experience in reaching their relatives, not to mention the negligence and mistreatment of political detainees.
One of the most famous Wadi al-Natrun prison's inmates is the ousted president Mohamed Morsi al-Ayyat, who had been held in the prison along with 34 other Muslim Brotherhood (MB) leaders- including Saad al-Katatni, Mostafa al-Ghunaimi, and Saad al-Husseini- before the prison raid in late January 2011.
The most famous prison escapes occurred in late January 2011 during the revolution, when several prisons- on top of which is Wadi al-Natrun prison- were stormed and all inmates escaped especially the MB leaders, most prominently Mohamed Morsi who later ran for the presidency and took office as the country's first president after January Revolution. A year after assuming the presidency, Morsi was toppled and arrested once again on several charges including breaking into Egypt's prisons in 2011, and as a result, more than 25 MB leaders were brought to trial, some of whom were punished with high-security prison sentence. Morsi's criminal charges were dropped because of his death during one of his trial sessions.
Violations and negligence:
Wadi al-Natrun inmates always complain of medical negligence, according to the statements of some of the detainees' families. This is in addition to subjecting detainees to the so-called 'punitive search', in which they are forced to take off all their clothes and stand almost naked –only in underwear- whether in winter or summer. Some of them are also forced to defecate in front of detectives alleging that they might hide contraband such as cell phones, sharp objects and drugs as for criminals.
The most famous cases of negligence is the case of Ahmed Al-Khatib who suffered from "leishmaniasis" during his detention period in Wadi al-Natrun Prison. Al-Khatib first suffered from high temperatures due to medical negligence and after his condition worsened, he was transferred to the prison's hospital where they discovered that he had "leishmaniasis", leading him to suffer high temperature, enlarged liver and spleen, and extreme weight loss in addition to an acute shortage of all blood components. Doctors stated that one of the causes of the leishmaniasis' transmission is the so-called 'sand fly'. Leishmaniasis is an infectious disease that has no treatment, which prompted many activists to call for al-Khatib's release in order to receive treatment and for conducting medical examination for other inmates. For example, in 2017 there was a protest vigil on the stairs of the Doctors Syndicate in Cairo demanding al-Khatib release and a medical examination of his co-prisoners.
A medical report on the health condition of detainee Ahmed Al-Khatib at the time: