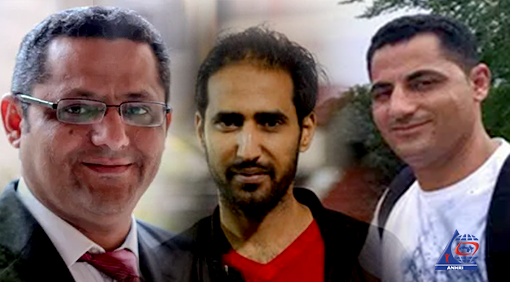 Cairo: 12 October, 2020
The Arabic Network for Human Rights Information (ANHRI) called on the Public Prosecutor to order the immediate release of Islam al-Kalhi, journalist at "Darb" news website, along with the website's editor-in-chief Khaled al-Balshi. It demands the Public Prosecution to distance itself from contributing to the police retaliation practiced by the authorities in Egypt against journalist and former board member of the Journalists Syndicate Khaled al-Balshi, due to his adherence to the professional norms and values of journalism rather than currying favor with the authorities and following the steps of those who are blindly supporting the regime.
After the Egyptian government failed to politically retaliate against Khaled al-Balshi by restricting his job opportunities and then blocking the three websites that he headed as chief editor; "Bidaya", "Kateb" and "Darb", it started off a crackdown campaign against his family and when it failed, the security forces arrested his co-journalist Islam al-Kalhi on Wednesday, 9 September 2020 while attempting to cover the killing of the young man"Islam the Australian" who was killed while in police custody (at al-Munib Police Station). Al-Kalhi was put in jail by the Public Prosecution on charges of joining a terrorist group, publishing and broadcasting false news and misusing social media. The Prosecution didn't specify what this terrorist group is or the nature of false news alleged to be published, rather it ruled to hold him in pretrial detention pending the Case No. 855 of 2020 State Security, which involves many critical human rights defender and political activists, such as lawyers Mahienour Al-Masry and Mohamed Al-Baqer, and journalists Israa Abdel-Fattah and Solafa Magdy.
While "Darb" website continues to work and covers the violations against human rights breaking the block imposed on independent news websites despite the ban order, Khaled Al-Balshi's brother Kamal al-Balshi was arrested on September 20. And despite the fact that many journalists and politicians confirm that the regime will not descend to this level of Political rivalry and will rather fix the mistake and order the release of Kamal al-Balshi, Khaled al-Balshi, his family and friends were surprised at the Public Prosecution ordering to hold him in pretrial detention for 15 days adding him to the Case No. 880 of 2020, known in the media as "September 20 incidents".
Khaled al-Balshi's brother is charged with demonstrating, spreading false news, joining a banned group, and misusing social media, which are deemed substantiated charges that are based only on a trumped-up investigative report without having any evidence that prove such accusations. And afterwards, he transferred to Tora Prison.
Calling on the Public Prosecution to immediately release Islam al-Kalhi and Kamal al-Balshi, ANHRI reiterates its stance rejecting the Public Prosecution to plunge itself into political conflict and incarcerate innocent people without evidence, thus providing legal cover or ground for the widespread violations committed by the security services against opponents and critics. ANHRI also demands to review all the cases' files of prisoners of conscience in Egypt and to put an end to the expansion of pretrial detention that is based on mere investigative reports, which constitutes a flagrant violation of the law, the Constitution and human rights values.