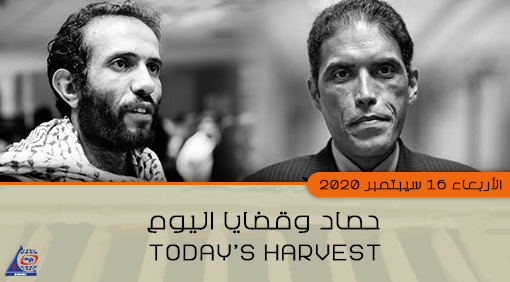 Issued decisions
– The Committee for Inventory, Seizure and Management of Terrorist Funds has lodged a lawsuit demanding to transfer the assets of 89 people, including the heirs of former President Mohamed Morsi, his sons and his wife, Mohamed El-Beltagy, Khairat Al-Shater, and Safwat Hijazi to the state's Public Treasury, and set the hearing of September 27, 2020 to consider the case before the first circuit of Cairo Court of Urgent Matters.
– The 5th Terrorism Circuit has renewed the detention of Ola El-Qaradawi and others for 45 days pending the investigations being conducted with them by the Public Prosecution on a charge of joining an outlawed group.
– The 5th Terrorism Circuit has renewed the detention of activist and human rights lawyer Haytham Mohamdein and journalist Khaled Daoud for 45 days pending investigations into Case No. 741 of 2019 State Security.
– The Supreme Disciplinary Court has ruled to punish the managers of Waste and Hazardous Materials at the Ministry of Environment after being convicted of committing grave financial and administrative violations and wrongdoing resulting in the damage and disruption of the public funds during their terms of office at the Environmental Affairs Agency.
– The 5th Terrorism Circuit has decided to replace the pretrial detention of Asmaa Mostafa Ali with precautionary measures pending Case No. 1338 of 2019 State Security, known in the media as "September 20 incidents".
Decisions not issued
– Cairo Criminal Court is considering the detention renewal of Ayman Obeid Al-Ratyel pending Case No. 1739 of 2018 State Security and of Ibrahim Ahmed Ibrahim pending Case No. 1530 of 2019 State Security, but hasn't reached a decision so far.