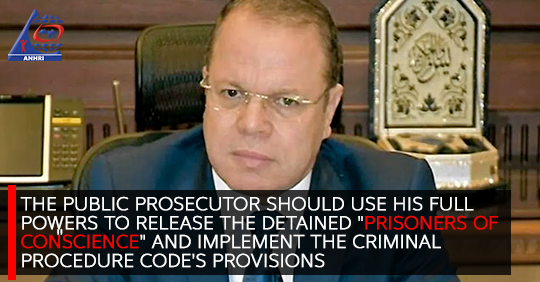 Cairo: 17 March 2020
The Arabic Network for Human Rights Information (ANHRI) calls upon the Public Prosecutor, Counselor Hamada El-Sawy, to use his powers to release the "prisoners of conscience" who are being held in pretrial detention, though they didn't commit any crime except the peaceful expression of their opinion. This came in the context of the Egyptian authorities' attempts to curb the spread of coronavirus by announcing the suspension of prison visits and court's hearings in the country. ANHRI, hence, demands to implement Article (201) of the Criminal Procedure Law which provides for the replacement of the detainees' remand detention with one of the precautionary measures.
ANHRI said that this demand is made out of fear that pretrial detention orders will be marred by a general lack of procedural legitimacy in the coming period; in case defendants and their lawyers are barred from appearing before the judge mandated to consider the defendants' detention renewal. This actually happened yesterday when the State Security Prosecution renewed the detention of journalist Solafa Magdy pending the Case No. 488 of 2019 State Security, without letting her to appear before the Prosecution's head ordering her security guard to return her back to her jail while only presenting the case's papers, in a gross violation of the Criminal Procedure Code's provisions which. The situation also got worse when lawyers were asked not to attend any more the detention renewal sessions at the Public Prosecution office in the coming days and to depend only on the submission of the case's papers.
In case those defendants are not to be released, ANHRI urges the Public Prosecutor to release a public statement outlining the steps taken by his deputies to implement the law with respect to the situation of the defendants' detention renewal in order to preserve the procedural legitimacy and implement the rule of law.