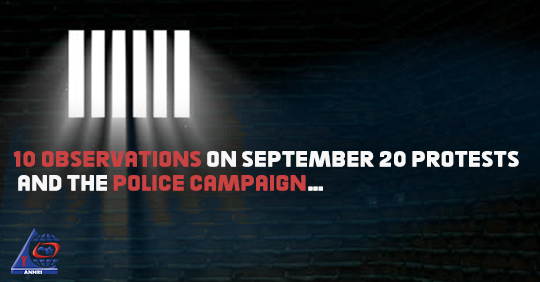 First: The police campaign timeline:
On 20 September 2019, protests erupted in nearly 14 Egyptian cities in response to a call made by contractor Mohamed Ali through his viral videos posted from Spain, denouncing and criticizing the waste of public money in Egypt. Thousands of Egyptian citizens, especially youth, participated in these protests. The majority of them are poor and don't have any affiliation with any political party. The protests decry the prevalence of poverty and the waste of people's money on presidential palaces, which they don't think Egypt needs.
On 21 September 2019, a large-scale campaign of random arrests began. This includes the arrest of people from the streets of many cities and governorates especially in Cairo, Suez and Alexandria, in what became known as the "mobile phones search campaign". In addition to that, many citizens and young people got arrested from their homes for their critical posts on Facebook.
On 22 September 2019, hundreds, and later thousands, of those arrested successively began to appear in what became known as the "September 20 arrests" after many of them had been missing since Friday, September 20. Hundreds were investigated on this day at a number of prosecutions mandated by the Public Prosecutor, and many of them had been held in illegal places of detention such as the Central Security Forces (CSF) camps in "El-Darrasa", "El-Gabl El-Ahmar", "Tora", and the State Security Prosecution's headquarters. The detainees had been held pending investigations from Sunday, September 22 to October 20.
On 23 September 2019, hundreds of detainees from different cities continued to be interrogated pending "Case 1338 of 2019 State Security". Given the large number of arrests, lawyers from different independent human rights organizations, along with volunteer lawyers and members of the Lawyers Bar Association Freedoms Committee, took turns giving legal defense in general, on a daily basis, day and night, before the State Security Prosecution and other prosecutions mandated by the Public Prosecutor.
On 25 September 2019, Sudanese, Jordanians, Palestinians and one Dutch national were arrested. Preceding the judiciary and the course of investigation, TV anchor Amr Adib alongside pro-government newspapers have portrayed the protests as a "conspiracy" orchestrated by foreign bodies, airing videos showing the men "confessing" to having cameras and taking photos at the time the incident took place, which prompted Adib to comment on the alleged confessions in a way that shows those people are complicit in a certain plot against the country.
On 26 September 2019, the Public Prosecutor issued a statement acknowledging that 1,000 people were interrogated in relation to the protests, and that their mobile phones were searched and their personal accounts on social media were inspected. The number then increased to more than 3,000 defendants, and is still on the rise.
On 3 October 2019, the Public Prosecutor released a new statement pertaining to the same case, as he announced that all the foreigners detained over the 'September 20 Case' were to be released!
On 20 October 2019; the crackdown is still ongoing and has started to reach human rights lawyers and the detainees' defense lawyers, including Mahinour El-Masry, Mohamed al-Baqir, Amr Imam and others, it even reached academics and journalists, and the number of defendants is increasing.
Egyptian media outlets, which are -almost completely- controlled by the state, whether national media or the privately-owned media, always ignore such news, or more accurately ignore its importance and impact. However, the campaign is still ongoing and is considered the largest and most violent campaign since General Sisi took power in Egypt.
Second: 10 observations on the ongoing arrest campaign:
Lawyer's robe taken off, prison suit put on
A lawyer, who finished attending a court hearing in the 6th of October City Court and took a taxi to Abdel Moniem Riad Square to pick his daughter from Lycee El-Horreya School near Tahrir Square, was arrested therein. He was only carrying the files and the papers of the case he had just attended. The lawyer reported to the Prosecution what happened, wondering in astonishment 'what crime he had committed?' Is this because he filed cases or because he was going to pick up his daughter from school?! However, he was ordered by the Prosecution to be held in pretrial detention for 15 days pending investigation, if what happened can really be considered, one way or the other,, an "investigation".
'But I cannot read or write'
A 62-year-old man, who works at one of the women's clothes manufacturing companies in Bab El-Louk district, was arrested on 20 September, while he was heading from his workplace to Abdel-Moneim Riad Square to take a microbus to return home in Manshiyet Nasser district. Following his arrest, he was taken to the Central Security Camp in El-Gabl El-Ahmar.
At dawn on 23 September 2019, the defendant was brought before the prosecution for questioning, before he was charged with "misusing social media and disseminating false news and information"! Thereafter, it turns out that the man is illiterate and doesn't have a "Facebook" account in the first place, and despite that, he was handed a 15-day pretrial detention order pending investigations!
'It's not my job to let them eat'
On 3 October 2019, during one of the detention renewal sessions of a number of defendants involved in Case 1338 of 2019 (State Security) at the State Security Prosecution headquarters, a group of defendants had informed the Prosecution head, Counselor Abdel Rahman Sisi, that they were very hungry as they haven't had anything to eat or drink throughout the whole day. They clearly looked tired and exhausted, and therefore, lawyers went to get them some food (baked croissants, biscuits and juice) from inside the prosecution building, asking for the counselor's permission to hand the food over to the defendants, he strongly objected, saying: "It's not my role to deliver food to the defendants. This is not my job. They can eat when they return to their places of detention".
As a consequence, one of the police officers who were standing at the prosecutor's office came to take the food and belongings away from the lawyers, asking for permission from the Public Prosecutor of the State Security Prosecutors, who, in turn, ordered to quickly allow the food to go to the defendants.
'I was calling my father to drive me to the group- tutoring center, then I was arrested'
Three children under 18 were stopped, while they were going to their group-tutoring center.
The first one said: "I was phoning my father to drive me to the place where I have my tutoring class, before a low-ranking police officer stopped me and said 'Give me your mobile phone. What are you taking pictures of?' to which I replied 'It is a very old phone and doesn't have a camera'. He then grabbed me, and I found myself detained without having any idea about why I am here and what I have done".
The second one: "Uncle, please. I haven't seen my mom for more than 20 days. We are being treated here very badly, and they're not letting me to talk to my family at home".
The third one: "My father gives me LE 15 for transportation every class at the tutoring center. How can I participate in protests with such an amount of money?'
'Take me and let my mom " So they took him and his mom
Prosecutor: You are accused of participating in a terrorist group
Defendant: Can you please let me tell you what happened, sir?
Prosecutor: Go ahead
Defendant: My name is (….) I work at a restaurant for a full-time night shift. On the day of the arrest, I had performed the Friday (jumah) prayer and went home to have some sleep. While I was closing my room's door, I heard my mother telling my father that she is going to the market for shopping. Minutes later, I had a phone call from one of my neighbors telling me that some police personnel have just arrested my mom and are about to let her in the police van up the street. I rushed to my mother without even having my clothes or my slipper on. I stood in front of the police van begging the police officer to let my mom out the van and took me instead of her. The officer replied 'Go away from here'. I threw myself down the car and begged him once more to let my mom free and took me instead of her. He, finally, grabbed me in the car next to my mom and we both were driven away".
The defendant was issued a 15-day pretrial detention order pending investigation.
'They beat us because we are from Suez'
A young man from Suez: "I beg you sir, don't get us back to prison. Every day, they beat us with their shoes and sticks and punch us in the face. Signs of beating and bruises are all over our bodies. We haven't taken a shower nor changed clothes for 25 days. We cannot have some sleep out of pain, itching and hunger. I haven't had any food for three days. I am very hungry. I haven't spoken to my family for several days. They beat us because we are from Suez. Sir, please get us out of here."
They were handed a 15-day pretrial detention order, however.
As a result, upon their return to Port Said Prison, they were subjected to a series of torture and humiliation once they arrived to prison. This is known as the "welcome parade" to punish them for complaining about what they have experienced to the Prosecution.
A conversation with a lawyer during an investigation session: 'What is in it for you?'
During the interrogation, a prosecutor asked me what I get in return from voluntarily providing legal defense to defendants, as follows:
Prosecutor: "Tell me, what is in it for you? Do you encourage them to protest? Are you affiliated to the Lawyers Bar Association Freedoms Committee as well, or to the civil society?"
Lawyer: I am a lawyer, and this my Bar Association membership ID that gives me the right to defend any defendant as we studied at the Faculty of Law.
'Keep him in prison, he is a Yemeni'
Having shown the falsity of the confessions aired by an unscrupulous anchor, accusing some Arab youth from Jordan, Sudan, Palestine- and even Europeans like the Dutch national- of plotting against the country, the State Security Prosecution issued a statement ordering the release of all foreigners arrested against the backdrop of September 20 incidents, and ordered their deportation back home to their countries.
Among those people, there was a young man who holds Yemeni citizenship. His mother refused to submit a request for his release, just like all other foreigners did; because she doesn't want her son to be deported to Yemen, although he is innocent and has no relation whatsoever with the protests, but unfortunately he is Yemeni!
A citizen said: 'We are supposed to belong to the homeland not to individuals', then he was thrown in jail
On Monday 23 September, at 10 am, an employee working in Al-Shorouk Educational Administration (Student Affairs Department) at Cairo's Al-Shorouk City was escorted by a National Security officer, who came to his workplace asking for the Administration Director's permission to take him to ask him a couple of questions and then return him back to work. Shortly thereafter, the employee-named Sayed- appeared at the State Security Prosecution's headquarters.
Prior to his arrest, in the evening of September 22, a new computer science (female) teacher was added to a private "WhatsApp" group of the Administration's employees (the group was named "Planning and follow-up"). The teacher then uploaded a photo of President Sisi on the group and kept extolling and glorifying him, to which "Sayed" politely responded by arguing that 'this man doesn't care about teachers and our salaries have been suspended since 2015 because of him". He added: 'People are transient while our homeland is not. Our affiliation should be for the country not for people."
One of the group's members has a brother who is a National Security officer. Consequently, the Educational Administration's security director took a screenshot of the group conversation and filed a report with the National Security Service, and as a result, Sayed was arrested.
'I like this phone. Shall I take it or take you instead?'
Hoda Mansour (a  pseudonym) narrated:
I was, along with two of my friends, walking around at Talaat Harb Street rambling through women's clothing stores, when we were stopped by a man who appears to be a police officer. He asked us to have a look on our mobile phones. He searched our friends' phones, and found nothing. Then he asked for my phone's screen lock password, and while I was unlocking the phone, he told me "Nice one. Huawei, right? Leave it or I will take you with it". I was so scared so I had to leave it. It was a new and expensive phone. Can you please help me get it back?
She doesn't know the man's name nor his rank or job. And even if she knew, the phone was lost and would never be returned to her.
---