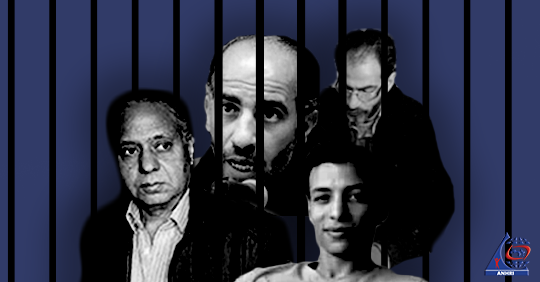 Cairo: 29 July 2019 
The Arabic Network of Human Rights Information (ANHRI) condemned today the Ministry of the Interior's failure to implement court rulings and its waste of the law with the continuing detention of nine citizens, despite being ordered released by court on probationary measures eight days ago, under no legal ground. It also denounced the arbitrary measures carried out against some of them which seem to be intended only to crack down on the released activists and their families. 
It is noteworthy that on the 20th of this month, Cairo Criminal Court decided to issue a probation order against some defendants instead of pretrial detention, according to Article 201 of the Criminal Procedure Code. The Public Prosecution, consequently, appealed the decision on the July 22 hearing, but the court decided to uphold the release order issued for the following defendants: Political activist/Sherif al-Roubi, blogger/Mohamed Oxygen, student/Mohamed Khaled Mohamed, and teacher/Mona Mahmoud Abdel-Gawwad. The release of (pharmacist /Gamal Abdel Fattah, student/Khaled Bassiouni, pharmacist/Ahmed Mohei, poet/Tamer Khater and political activist/ Abdulaziz Fadali) has also been held by the court pending case No. 1739 of 2018. 
Despite the fact that there is no legal impediment that could disrupt the implementation of the release order, eight days have passed and the decision hasn't been carried out as of yet, although some of the defendants have already been transferred to the police stations since a couple of days in preparation for their release. The only obstacle to their release is all about "awaiting the National Security's approval or signal", an illegal matter that disrupts the law and violates court orders.  
ANHRI said: "It appears that the National Security Agency, not the judiciary, has the final say in whether or not a defendant should be released or left jail. Those who are ordered to be released may wait for days, weeks or even months until the National Security approves or command their release, as we previously noted in our report "Commands are above the law".
The Arabic Network of Human Rights Information holds the Ministry of the Interior responsible for the waste of the rule of law and judicial decisions, despite the deteriorating health situation of prisoners of conscience who are being unlawfully detained in jails and prisons. ANHRI calls on the Public Prosecutor to put an end to the phenomenon of disregard for court orders; by punishing the Interior Ministry's officials who are responsible for wasting the release order issued for the aforementioned defendants, so as not to become a systematic or routine practice over which the Interior and the Public Prosecution are to be questioned.