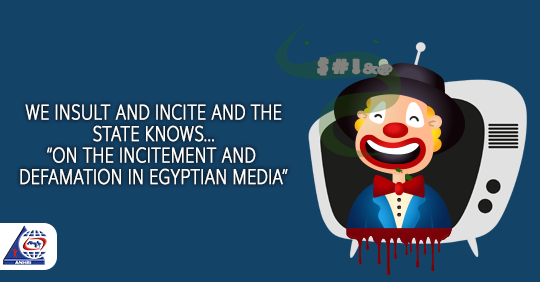 Introduction
The Egyptian minister of immigration, Nabila Makram, threatened the opposition with "decapitation" leaving no doubts as to what she meant by doing a gesture on her neck. It is worth mentioning that she was not the first nor the only figure who incited, defamed or reviled opposition. Numerous figures of the state media and the regime, or even those who are close to it, never stop inciting and reviling. This takes place with the blessing of the State, as their violations pass without legal punishment.
It is noticed that verbal abuse is spreading and hate speech is prevailing, the only answer to this phenomenon is: Media.
Shouting, fighting, accusations of treason, misleading speech; that is how you can summarize the definition of Egyptian media, whether audiovisual or written. Although the Supreme Media Regulatory Council (SMRC) is established under claims of "protecting thought and upholding media profession", nevertheless, at its core, it is aimed at destroying this profession. Mass communication is now nothing but a bunch of loud dictated statements embedded with hatred, lies, and hostility.
Why this paper?
It is a manifestation of written and visual media in Egypt. It is aimed to trace its patterns which depend on incitement, lies and misleading news encouraging hostility, misunderstandings, and disputes among citizens. These patterns were adopted by the media after it was taken under the full control of the state and it depends on propaganda led by a number of media figures who do nothing but defaming, cursing and insulting, not to mention their incitement to murder, encroaching on all legal provisions.
Such an attitude adopted by the media is taking place under the nose of the Supreme Media Regulatory Council (SMRC). A council that is known for its persisting antagonism towards other papers and media programs under the pretext of violating the profession's values, while turning a blind eye to the real violations against the profession and the society, just because the latter serves the goals of the regime.
Why now?
Three years passed after the establishment of this council which subjected freedom of speech to its full authority. Three years of pursuing opposition while condoning violations committed by pro-regime media figures. Now we can monitor the double-standards and explain the real goal of controlling the media along with its impact on the reputation of Egyptian media as it is regarded now as a media of misleadings and incitement.
Examples for insulting and inciting in media
Mohamed Al-Baz and Mehwar TV Channel
Mehwar TV channel is owned by Sama Group. It is well known for its violations, incitement, misleading, defaming. Especially Mohamed Al-Baz, a TV anchor and the editor in chief of Al Dostor journalism institution since 2018. In his TV program "90 Minutes", on the 12th of December 2018, he directly incited to kill a number of defendants who are pending trial and undergoing investigations. Moreover, he doubted the feasibility of the law and trials, asserting that they should be killed on the spot by any citizen.
"These people deserve to be killed. Whoever can reach Ayman Nour, you should kill him, whoever  can reach Moataz Matar, you should kill him, Mohamed Nasser, should be killed too, if you accuse me of inciting to kill them I will reply: yes I do, I even call for killing all Muslim Brotherhood leaders and all media figures who are pro brotherhood, if anybody tells me: you can submit a complaint against them, I will reply: no, we do not need to wait for lawsuits to take their time."
The same anchor recorded other violations in the same program like defaming novelist Dr. Alaa Al Aswani, in his episode dated 30th April 2019.
"You are writing all the time as if nothing positive is happening in Egypt, this means that you are mad and insane. An eternal opposing person is an insane person, you are gaining money for opposing, you are just a disfigured person who is appearing with his ugly face taking with arrogance."
(footnotes 1,2)
 2- Amr Adib and ON TV:
ON TV channel, turned from being a professional channel which gave space to revolutionary visions during 2011, into shouting and screaming to increase its viewership through disputes, scandals and loud voices after 30 June 2013. The most prominent program which can be a good example is "Every Day", presented by Amr Adib before leaving the channel. In an episode dated  1 July 2017, Adib defamed and insulted Qatar as a state and an anchor in a TV channel. (3)
"I found this pal working in al Jazeera, they are renting a gay to insult me, I am obliged to be impolite. Egyptian mothers would slap you with their shoes, they sacrificed their children to keep you and your mother alive, you are a dog, a slave dog, you are going to be hanged from your feet and thrown into the garbage you mercenary.. dog, what a dirty man, dog."
 3-  Tamer Abdul Monem and Assema TV Channel
The channel was owned by Parliament Member Saeed Hassanin and now it is owned by Ihab Talaat, head of Media Group. Talaat was accused of financial corruption in a number of lawsuits. The channel was launched after 30th June 2013. It is worth mentioning that the channel is indebted and not very popular, which pushed its board to assign a number of media figures known for their loud voices and defaming others. The most prominent figure of those is Tamer Abdul Monem and his TV program "Assema- the capital" as he committed a number of professional crimes and slurs. On the 3rd of February 2018, he insulted the previous presidential candidate Hamdeen Sabahi. (4)
"Do you have nothing to do? And who are those with you? What filthy curtains? He went to Tahrir square barking, are you an idiot? Are fooling us? It is not your fault, it is your father's.. you are counting your self an opposer… you have no ethics, you were locked in a bathroom, it is your natural place."
Nashaat Al Dihi and Ten TV Channel:
It was al Tahrir TV channel, which was launched after the ousting of Mubarak, using the name of Tahrir square. In 2017 it was turned into TEN TV channel. The name was not only the thing that is changed but the whole policy. Now it represents the epoch, using loud voices and hatred speech. The nameless Nashaat al Dihi, a new anchor who presents the TV program "A paper and a pen".  Al Dihi is trying to build his career through continuous insults to the opposition, spreading lies, as he did in the episode dated 30th January 2019, insulting and cursing human rights advocates. (5)
"Mohamed Zaree, he won a prize of millions of dollars, as an indirect fund, Mohamed Lotfi, do you remember the impolite woman Amal Fathi, he is her husband, who is that man? I do not know him, he doesn't want to tell from where did he get his money, Gamal Eid, those people who defamed Egypt before Macron".
Tawfiq Okashs and Al Hayat TV channel
Al Hayat TV channel owned by "Al Sayed Al Badawi" head of al Wafd Party. The channel returned back the ridiculous TV anchor "Tawfik Okasha". A mysterious man whose name was linked to a number of cases. He reappeared in "Egypt Today" TV program, spreading demagogic culture, lies. Misleading people with his loud voice and obscene words.
In an episode dated 29th of November 2018, Okasha insults women claiming that they do not understand him saying "May you die stupid as you are, women walking in the markets and the streets should understand what I say, if you are able to understand then good for you if you are not go to hell May you die as stupid as you were born."
Ahmed Moussa and Sada Al Balad TV channel
Sada Al Balad owned by Mohamed Abo Al Enin, one of the accused in "The Camel Attack" case. Ahmed Moussa, a puzzling person, you do not know whether he works for the interior ministry as a journalist in Al Ahram or he works for it in the Journalism Syndicate.  
Moussa appeared in al Tahrir channel in 2011 presenting a TV program called "the people want". He is known for his demagogic pattern and hatred speech. In his program "On my responsibility" in Sada al Balad channel, on 20th February 2019, he accused lawyer Nasser Amin of defending terrorists because Amin wrote a post on facebook against the death penalty. (7)
"Nasser Amin is defending terrorists, he did not defend martyrs, he is defending terrorists, Nasser Amin, who gains his salary from our taxes, is defending terrorists and condemns death penalty."
Printed Journalism is not Innocent
The scene in printed journalism is not far from what we manifested upwards. It is full of fabricated news, false statements, articles embedded with hate speech and defaming. Here are some examples.
Al Youm Al Sabei newspaper
Dandrawi al Hawari, a prominent columnist in al Youm al Sabei wrote a column on 30th March 2019 titled "Khaled Abol Naga and Amr Waked in the congress.. a low championship +18 with betraying the country film". (8)
Some phrases from his article: "websites of sewage and public toilets… like Khaled, I am sorry, Abol Naga, Amr Waked, the failing singer Mohamed Attia, Gihan Fadel and Basma.. revolutionaries with no pants who are going to shout "down with the panties". 
Al Youm AL Sabei for the second time
In the same newspaper, a piece of news published on 22nd of May 2019, claiming that videos and photos alleged to be for an officer who was assaulting a child in the 12th grade, are false, despite that the ministry of interior authenticated the material. (9).
"A security source negates the authenticity of some photos published on social media depicting officers with civil cloths arresting students in secondary school during their demonstration before the education ministry".
Rose Al Youssef
Tarek Radwan, a journalist in Rose al Youssef, known for misleading and lying. On the 24th of April 2019, he doubted the patriotism of some members of the constitution committee formed in 2014, in one of his articles. He also published false information about the previous constitution. The article is embedded with misleading lies, defaming and accusations of treason against prominent figures." (10)
Extracts from his article: "the constitution was written in 2014 by men whom we doubt their political orientations, some of them were not patriotic enough… the fascist constitution was established by Fieldman Noah, a professor in economy in Harvard university, he also established the Afghani and Iraqi constitution after been invaded by the US.. they were traitors and agents and mercenaries… a constitution that was written to consecrate for dictatorship, fascism embodied in theocracy… in order to establish the fear republic.. he faced – the president – waves of objections aroused by Americans, westerns, Africans and Asians."
Al Osbou Newspaper
Its editor in chief: Mostafa Bakry. He continues to publish a bunch of articles full of lies like is article dated 24-9-2018 accusing amnesty international of lying. Moreover, he accused the amnesty of belonging of the Muslim Brotherhood, putting the responsibility on Qatar and Turkey. (11). In another article dated 16-12-2018, Bakry attacks human rights advocates without evidence. He attacks EU and the Senate, negating proved facts in the cases which the two were discussing. (12)
Extracts from his articles: the amnesty international, middle east watch, the Guardian, the New York Times and the Washington Post are paid to publish its reports and claims… the European Parliament launches an oppressing campaign against Egypt under the pretext of Regini murder.. the Senate lies with no shame… Graham wants to insult the Saudi people… those who cry for human rights are lying, they follow the lies of the terrorist brotherhood group and those who support it like Qatar, Turkey, Israel, and some western powers.
Al Ahram Newspaper
Amr Abdul Samie, a column writer in al Ahram newspaper, who calls for suing 25th January revolutionaries. A revolution that is admitted by the current constitution. The writer named some of them inciting "people" to retaliate from them. In his article "Esraa and Morsi advisors" dated 14th October 2018. (13) He wrote: there are hundreds of them who led to destroy the state in January 2011, people should retaliate from them.
Conclusion
A loud voice reflects weakness. Nevertheless, the state media does not adopt loudness only, but it adds insults, slurs, defamation and incitement. A pattern to make people ignorant and hide the truth from them…
The odious attitude prevailing in Egypt of not accepting differences is fed by the media.
The Supreme Media Regulatory Council (SMRC) which claims to protect ethics and professionalism, banning and fining opposition websites and newspapers, is headed by Makram Mohamed Ahmed who is known for his abusive language to the extent that he uttered abusive words in a press conference, and of course, he was not held accountable. (video 14)
"Some pimps call for a reconciliation with the Muslim brotherhood"
This is the status quo of the Egyptian media: false news, misleading lies, defamation, insults and low language.
footnotes
Mehwar: 90 minutes program: A complaint accusing "Moataz Matar and Ayman Nour" of inciting violence and publishing false news, YouTube website, September 12, 2018،
We insult and incite and the state knows…"On the incitement and defamation in Egyptian media" pdf
We insult and incite and the state knows…"On the incitement and defamation in Egyptian media"word
---
https://www.youtube.com/watch?v=wDW-eTKTdyM&feature=youtu.be  5.35.
Mehwar: 90 minutes program: "Alaa Al Aswani" continues to harass and ridicule the Egyptian people, YouTube, on 30 April 2019
https://www.youtube.com/watch?v=Te42o7107Rs
ON Ent| Every Day | Amr Adib Yaseeb Jamal Ryan Al Jazeera announcer: You are the dog of your master Qatar, YouTube, on 1 July 2017
https://www.youtube.com/watch?v=RuVUPjIob8U
Assema: Tamer Abdel Moneim defeats Hamdine Sabbahi in this video and makes him and promises him not to keep silence, YouTube, February 3, 2018
https://www.youtube.com/watch?v=oN62lWsPiJU
TeN| A paper and a pen: Nishat al-Dehi exposes the five traitors inciting against Egypt abroad, YouTube site, January 30, 2019,
https://www.youtube.com/watch?v=y6F1k2Wj3gs
Al Hayat: Tawfiq Okasha is blowing on-air "May you die as stupid as you were born" YouTube, 29 November 2018
 https://www.youtube.com/watch?v=JaFpOUI3lh0
Sada Al Balad: Ahmed Mousa furious on air after a human rights defender defended terrorists YouTube, on February 20, 2019
https://www.youtube.com/watch?v=vU7DE5iyU8k
Sources of journalism violations
Al Youm Al Sabei: a low championship
https://www.youm7.com/story/2019/3/30/%D8%AE%D8%A7%D9%84%D8%AF-%D8%A3%D8%A8%D9%88-%D8%A7%D9%84%D9%86%D8%AC%D8%A7-%D9%88%D8%B9%D9%85%D8%B1%D9%88-%D9%88%D8%A7%D9%83%D8%AF-%D8%A8%D8%A7%D9%84%D9%83%D9%88%D9%86%D8%AC%D8%B1%D8%B3-%D8%A8%D8%B7%D9%88%D9%84%D8%A9-%D9%87%D8%A7%D8%A8%D8%B7%D8%A9-18-%D8%A8%D9%81%D9%8A%D9%84%D9%85/4189248
Al Youm al Sabei: the published photo of a man arresting a student is fabricated
https://www.youm7.com/story/2019/5/22/%D9%85%D8%B5%D8%AF%D8%B1-%D8%A3%D9%85%D9%86%D9%89-%D8%A7%D9%84%D8%B5%D9%88%D8%B1%D8%A9-%D8%A7%D9%84%D9%85%D8%AA%D8%AF%D8%A7%D9%88%D9%84%D8%A9-%D8%B9%D9%84%D9%89-%D9%81%D9%8A%D8%B3-%D8%A8%D9%88%D9%83-%D9%84%D8%B4%D8%AE%D8%B5-%D9%8A%D8%B6%D8%A8%D8%B7-%D8%B7%D8%A7%D9%84%D8%A8%D8%A9/4253392?fbclid=IwAR3RkOw83D42SIqhkbKaibUl7EidDTcbThCdPXAMykMlrbQJxCkdAk3MQJY
Rose al Youssef: Tarek Radwan: Constitutional reform
http://www.rosaelyoussef.com/article/24601
اal Osbou: Bakry: lies of amnesty international September 2018،
https://www.elaosboa.com/show.asp?id=279495&page=topnews
Al Osbou: Mostafa Bakry: poisoned campaigns 16December  2018،
https://www.elaosboa.com/show.asp?id=294497&page=topnews
Al Ahram: Amr Abdul Samie: Esraa and Morsi Advisors، 14October
http://www.ahram.org.eg/News/202799/11/675272/%D8%A7%D9%84%D8%A7%D8%B9%D9%85%D8%AF%D8%A9/%D8%A5%D8%B3%D8%B1%D8%A7%D8%A1-%D9%88%D9%85%D8%B3%D8%AA%D8%B4%D8%A7%D8%B1%D9%88-%D9%85%D8%B1%D8%B3%D9%89.aspx
(D TV| Makram Mohamed Ahmed: those who seek reconciliation with Muslim Brotherhood are some pimps، March 24th 2018،
https://www.youtube.com/watch?v=KkriEq9mBp0