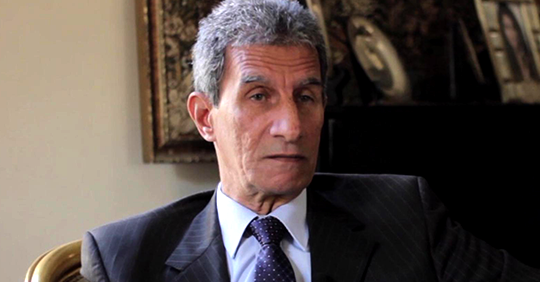 It is hard to talk about Maassoum Marzouq. A warrior, a diplomatic, a researcher, an intellectual and a striver.
The vigorous young man: Massoum Marzouq, acquired high notes in his baccalaureate, which allow him to join the faculty of engineering. Yet, he was totally in love with his country Egypt. At that time, Egypt, underwent a bitter military defeat in 1967, therefore, Marzouq, transferred his papers from the faculty of engineering to the military school in order to serve his country and fight for it.
Marzouq participated in the war of attrition and in the October 1973 war. As he was an officer in the "Sa'ka forces" (an Egyptian military commando force). Luckily, he survived the war.
The patriotic young man, though, did not have enough of his strife. He survived the war in order to fight in other kinds of wars defending his country.
He received a bachelor degree in law and a diploma in Islamic studies, not to mention his research about strategies, economy, philosophy and comparative literature.
He enriched the nation with a number of research papers concerning US policies, Egyptian diplomacy along with a number of novels.
He represented Egypt as an ambassador to Uganda, Finland, and Estonia.
He held a number of posts, including Assisting Foreign Minister, a diplomat in Ecuador, New York, and Jordan.
He participated in the revolution, the January 25th Revolution, not as a spectator or a theorist, but with his efforts and his ideas. He defended his country against Mubarak's corruption and against the divisiveness of the Muslim Brotherhood.
As anger and political disputes increased, especially after relinquishing Tiran and Sanafir islands, and as he vowed to give his life to this country, Maassoum Marzouq published, on his facebook account, an initiative to resolve the national crisis.
An initiative that expresses his own approach to solving the problem.
After this long and honorable history, instead of honoring Marzouq, or even naming a street or a square after him, the Egyptian regime arrested him on 23rd August 2018, because he dared to say that the country is undergoing a crisis.
In a solitary cell, derived from the minimum rights of a prisoner, his life is at risk, his health is deteriorating: Marzouq an honorable man is confined in prison.
Maassoum Marzouq: One of the nation's suns languishing behind bars.