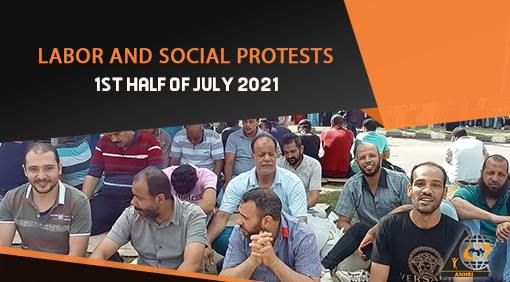 Introduction 
The first half of July 2021 witnessed 7 protests, five of which are social and two are labor.
The labor strike staged by workers of "Nile Lenin Group" Company based in Alexandria constitutes the most important incident took place during the reporting period; as it came against the backdrop the company's refusal to implement the decision to raise minimum wage.
First: Labor and social protests 
| | | | | |
| --- | --- | --- | --- | --- |
| Kind of protests | Number of protests | The protesting sector | The geographical region | Details of the protest |
| Strike | 1 | Textile workers | Free Zone for Investment – Alexandria | Workers of the first and second shifts at the Nile Linen Group Textile Company in Alexandria's Free Zone went on strike in protest against the administration's unfulfilled promises to raise workers' wages, add their families to the medical insurance and health care system, and to pay them their social benefits. |
| Sit-in | 1 | Lawyers Sector | Kafr El-Dawwar Court – Beheira | Lawyers of Kafr El-Dawwar Court organized a sit-in to protest against the Kafr El-Dawwar Public Prosecutor's violation of their rights |
Second: Social protests:
Kind of protests
Number of protests
The protesting sector
The geographical region
Details of the protest
Blocking off roads

1

Residential neighborhood sector
Sporting Road- Alexandria
Demonstrators block off the road in "Sporting" region in Alexandria to protest the release of an officer from jail after he ran over 3 young men who were

riding a motorcycle

collective complaint
1
Edfu – Aswan
Dialysis patients in the health unit of Al-Radisiya city in Edfu Center, Aswan Governorate, complain to the officials, for the lack of fans or air conditioners while receiving the dialysis session.
collective complaint
1
Maadi – Cairo
A collective complaint from the people of the Maadi area, protesting the cutting of trees and the removal of agricultural nurseries, for the sake of establishing the 'Al-Gazaer Axis Project"
collective complaint
1
Abbasia – Cairo
A collective complaint from a number of people belonging to a residential building in Cairo's "Masr and Sudan Street" Cairo, in which they were harmed by the presence of a health facility "hospital" that engages in harmful activities inside their property, which put the residents' lives at serious risk. (32 families are in danger)
collective complaint
1
Giza – 6th of October
A collective complaint from the owners of (The Quiet Knoll Project) of the Urban Communities Authority and the Ministry of Housing for not receiving their housing units since 2009 until now.