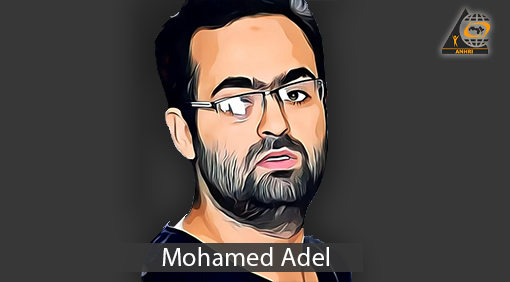 Cairo: 21 June 2021
The Arabic Network for Human Rights Information (ANHRI) said today that blogger and activist Mohamed Adel began his fourth year in pretrial detention with a legal violation and waste of his right to defense. The Mansoura Criminal Court's circuit 12, which considered Adel's detention renewal session this morning, refused his request to speak to the competent judges. The police guard was also summoned to pick him out of the counseling room where his detention renewal session was convened, which prompted his lawyers to withdraw from the session to voice their objection to the encroachment on the defendant's rights.
Adel was arrested while he was carrying out his probation (police surveillance penalty). He appeared before Aga Prosecution as a defendant over the common charges being used since years, including joining a terrorist group and spreading false news pending Case No. 5606 of 2018 Aga Administrative. The Public Prosecution decided to hold him in pretrial detention for 15 days, which continued to be renewed for over two years and a half in flagrant violation of the constitution and the law before the court ordered his release on bail (had already been paid). However, the activist hadn't been released at the time, but rather he was recycled and added to a new case, in which the Prosecution ruled to hold him in remand detention for 15 days, once again, with the same accusations previously leveled against him but pending a different case number; Case No. 4118 of 2018 Sherbin Administrative.
This morning marked the first session of Mohamed Adel's detention renewal consideration before the criminal court convened in the counseling room. When the session kicked off, Adel requested to speak to the court's judges but they didn't respond to his request and refused to even prove it in the session's memo. They also summoned the guard and ordered them to get him out of the counseling room. As a result, Adel's lawyers decided to withdraw from the session after they felt that his client's rights have been wasted.
It's worth mentioning that after Adel received the release order pending Case No. 5606 of 2018 Aga Administrative, he was transferred from his jail at Mansoura Prison to the State Security Prosecution headquartered in Cairo, where he was detained for the third time over the same aforementioned accusations pending the Case No. 567 of 2020 State Security, in which he was ordered detained for 15 days to be implemented as soon as he finished his detention period in the Sherbin Prosecution case.
While asserting its demand to necessarily release Mohamed Adel since he has served more than 3 years in pretrial detention, ANHRI calls on judicial and political authorities to take a serious stand regarding the pretrial detention issue, which is threatening the lives of dissidents and those who oppose or criticize the government policies.