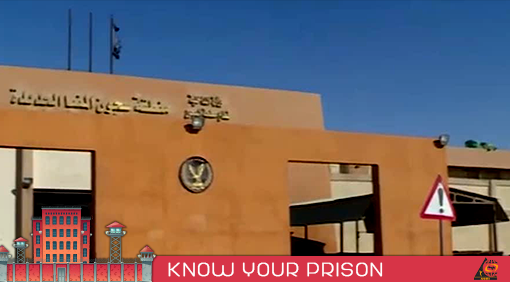 Prison name: 
– Minya Leeman Prison, General Prison (Maximum Security), Women Prison, which is located in the region within the jurisdiction of Minya Police Station- in the Central Region, Minya.
Date of establishment: 
On 16 March 2014, Major General Mohamed Ibrahim, former Minister of the Interior, issued a decree No. 873 of 2014 to establish the Minya Leeman Prison in the region within the competence of Minya Security Directorate to hold those sentenced to life and high-security imprisonment. The decision, which was published in the Official Gazette on 12 April 2014, also involves establishing a general prison in the same region, under the name "The Maximum Security Prison in Minya" (1).
The prison's internal division: 
– Minya's Leeman Prison and Maximum Security Prison were designed in the modern American style; each consists of 9 wards, 8 mass detention wards and one disciplinary ward (for solitary confinement).
– Each two wards are connected to each other in the form of the letter H with an agricultural or clay land separating them.
– Each ward is divided into 3 floors; with a room for criminals estimated at between 30 to 40 individuals in an area of approximately 60 cm per person and in case of overcrowding, the number may reach 50.
– A room for politicians who are estimated at between 15 to 20 persons and in case of overcrowding, the number may reach 30.
– A small room for one person.
– Minya General Prison is located in the Central Area of Minya governorate in front of the Maximum Security Prison and the prison hospital is in between.
– As Major General Mustafa Baz, Director of the Prisons Authority reported to Al-Watan newspaper, the Minya Prison (the three prisons) can hold up to about 15, 000 inmates (2), which is a huge number. This makes us exclude some of former prisoners' estimates that believe that the prison holds more.
– Disciplinary punishment is carried out in a single ward, which is considered one of the largest disciplinary wards. The ward consists of a number of cells equipped based on formal conditions; with a bathroom and water tap. However, the water valve is often closed and the prison administration, instead, distributes one or two water bottles just for personal use (3).
Types of inmates inside Minya prisons:
Like all general and Leeman prisons, the Minya Prison involves both political and criminal convicts sentenced to death and high-security prison in addition to pretrial detainees.
Type of prison: 
– Minya Leeman Prison is for those sentenced to high-security and life imprisonment.
– General Prison
Violations in the prison: 
1- Deprivation of the right to make a phone call 
Although Law No. 6 of 2015 gives detainees the right to make a phone call only on the condition that the detainee is charged the call fees, what happens on the ground tells us that this law is being violated. Not only that, but those who try to implement it get punished; as the news is strife with cases of arrest against the backdrop of smuggling or entering cell phones to detainees, like what happened with a police chief in a high-security prison where he was detained for 4 days pending accusations of "bringing in a mobile phone to a prisoner". (4)
2- Profiteering financially from inmates 
Like other prisons, we feat that it turns to a phenomenon, many prisoners at Minya Prison (The General and Max. Security Prisons) are complaining about the high prices of goods sold by the prison's "canteen" comparing to the market prices outside the prison.
Examples of Minya General Prison: 
Activist Ramy Sayed Hasanein
He is a member of the April 6 Movement. He was arrested while visiting the house of his friend Ahmed Al-Masry on the anniversary of his death at the hands of security men during the dispersal of the Rabaa El-Adawiya Sit-in, as he was in the vicinity of Mustafa Mahmoud Square where he was shot dead by a random bullet. In September 2014, a group of April 6 Movement members went to his friend's house and were consequently arrested and accused of protesting and gathering. The activists, including Ramy, were then sentenced to high-security prison. During his detention, Ramy decided to continue his studies but the prison administration refused to let him sit for the exam and, rather, decided to expel him by sending him to Minya General Prison where he was subjected to torture and severe violations despite the fact that he suffered from kidney failure and needed medical care and treatment. As a result, Ramy filed a complaint against the head of the Prison Investigations Ahmed Al-Gamil. The investigation was eventually shelved and Ramy was alienated once more as he was later transferred to Al-Wadi Al-Jadid Prison. 
Mostafa Desha 
He is one of Zamalek Sporting Club's fans. Along with Sayed Moshagheb and others, Desha is accused in connection with the Air Defense Case and was transferred from Tora Prison to Minya General Prison where he served a 7-year prison sentence leading his family to suffer the hardship of travel and visit ban.
MP Ahmed Ibrahim Bayoumi
– He was a parliamentarian from the Freedom and Justice Party and one of the January Revolution's supporters. He was arrested on 30 October 2016 and was then sentenced to 8 years in high-security prison. The former MP was transferred to Damou Prison in Fayoum and was then sent to the Minya General Prison. His family had made several complaints about the intransigence practiced by the Prisons Authority and Fayoum prison authorities for banishing him to the Damou Prison under no reason and despite his health conditions which his family described as deteriorating.