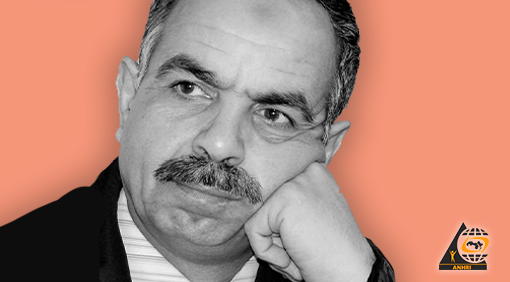 Cairo: 1 April 2021
The Arabic Network for Human Rights Information (ANHRI) said today that the Public Prosecutor must immediately release journalist Badr Badr Mohamed, a member of Egypt's Journalists Syndicate, after spending more than four years in pretrial detention, which was marred by many violations of most of his legal, constitutional and human rights, including the periods of his enforced disappearance and the denial of his right to appear before any judicial authority for up to 9 months.
Journalist Badr Badr Mohamed was arrested by a group of security personnel at the dawn of 29 March 2017 in connection with Case No. 316 of 2017 State Security. The Prosecution then decided to hold him in pretrial detention pending probe after he was charged with terrorism charges, which have been commonly pressed against Egyptian journalists as a back door to punish them for their views and journalistic work that don't appease the security services.  Since then, dozens of successive detention renewal orders were being issued against Badr until he completed the two-year maximum period of detention prescribed by law inside Leman Tora Prison. Thereafter, he was ordered released and accordingly was transferred to the 6th of October Police Station in preparation for his release. Such a matter doesn't appease the authorities, so, on 8 December 2019, they took the journalist from the police station to an unknown destination where he disappeared, without providing any information about him whether for his family or his lawyers. Badr had been missing since the date until the evening of 22 February 2020 when he appeared before the State Security Prosecution accompanied by a security force to stand again as a defendant who is accused of committing terrorism crimes. In the meantime, the Public Prosecution was turning blind eye to all information and the reported violations committed against the journalist, and, once again, ordered his detention over such trumped-up accusations pending the Case No. 1360 of 2019 State security. Since then, the Public Prosecution has been ordering, on paper, the detention renewal of Badr Badr Mohamed for a period of 9 months without allowing the journalist or his lawyers to appear before the Prosecution.
And now, after journalist Badr Muhammad has completed more than four years in detention where his liberty is being restricted and the State Security Prosecution hasn't yet completed its investigations or brought him to trial before his natural judge, the Public Prosecution must, therefore, issue an immediate and urgent decision to release the journalist if there is respect for the constitution, law and international conventions which are obligatory on the Egyptian government.
It is noteworthy that Badr Badr Mohamed is a member of the Syndicate of Journalists and worked as the editor-in-chief of many newspapers, such as "Al-Osra Al-Arabyia" newspaper ". He was also the chief editor of "Afaq Arabia" and had also worked as a correspondent for Al-Jazeera TV.
ANHRI calls on the Public Prosecutor to restore respect for the rights of journalist Badr Mohamed and restore his freedom, since his life and freedom have become costless. This couldn't be achieved unless the journalist is ordered to be immediately and unconditionally released. The ongoing detention of Badr has been deemed illegal since a long time ago and if the Public Prosecutor implements such a request and orders his release, the hope for the respect of the rule of law will probably be renewed.