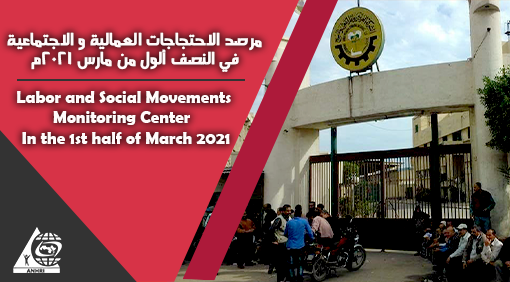 Introduction:
The Labor and Social Movements Monitoring Center has documented 17 protests that took place during the first half of March 2021. These protests are divided into: 12 social protests and 5 labor protests.
The protests took place during the reporting period varied as they included: collective complaints, strikes, suicide cases, gathering, sit-ins, and trade union movement.
It has been noted that social protests have been on the rise; as they spontaneously took place at different places under no organizational, political or partisan coordination.
This is in addition to the resurgence of the suicide phenomenon, with the reporting period witnessing 4 cases of suicide or attempted suicide
First: Labor protests 
| | | |
| --- | --- | --- |
| Governorate | Type of protest | Details of protest |
| Alexandria | Strike | Workers of the Alexandria Spinning & Weaving Company went on a strike to show solidarity with the dismissed colleagues/ coworkers. |
| Banha-Qalyubia | Sit-in | Banha lawyers staged a sit-in at the courts complex to protest against the court guards' assault on one of their colleagues. |
| Cairo-Journalists Syndicate | Union movement | A lawsuit demanding to hold the Journalists Syndicate's elections in large tents outside the syndicate's premises on Abdel Khaleq Tharwat Street. |
| Cairo- Ministry of Education | Collective complaint | Service classes' teachers appealed to Dr. Tariq Shawky, Minister of Education and Technical Education to pay them their financial dues. |
| Cairo-Helwan | A lawsuit against the liquidation of the Egyptian Iron and Steel Company | Last Thursday, Cairo Economic Court of Appeal adjourned the consideration of the lawsuit demanding to cancel the decision to liquidate the Egyptian Iron and Steel Company established by the engineer Ashraf Helmy Ramdan. |
Labor protests per governorate (Cairo: 3 protests + Alexandria: 1+ Qalyubia: 1) = 5 labor protests.
Second: Social protests 
| | | |
| --- | --- | --- |
| Governorate | Type of protest | Details of protest |
| Port Said | Reports/ records and collective complaints | Collective reports/records  filed by the students who were unable to take the exam in Port Said governorate |
| Dakahlia | Briefing requests | MP Ahmed El-Sharkawy requested a briefing from the ministers of local development and transportation regarding the expected demolition of gardens in the city of Mansoura within the framework of Long Live Egypt –Mansoura Project. |
| Gharbyia | suicide | A young man, in his fourth decade of life committed suicide after passing through a financial distress. |
| The Red Sea | suicide | A person committed suicide for not finding a job |
| Dakahlia | suicide | A person committed suicide for not being able to get married. |
| Cairo | suicide | A person committed suicide by throwing himself from the ninth floor after passing through bad psychological and financial distress and for having many quarrels with his wife. |
| Qena | strike | A third-class football team went on a strike protesting the non-disbursement of their dues |
| Bani Sweif | strike | Beni Suef Sporting Club players went on a training strike for the non-disbursement of their |
| Aswan | Gathering | People of Nasr al-Nuba gathered to protest the killing of a driver who had been used by police in raids against militants |
| Cairo | Parliamentary protest | An Egyptian MP submitted an urgent statement denouncing that fact that 43 Egyptians are being subjected to a major crisis in Iraq |
| Beheira | Resorting to justice/court | Aggrieved persons who are negatively affected by Mahmudiyah axis submitted lawsuits |
| Cairo | Resorting to justice/court | Legal experts filed a lawsuit against the demolition of the Champollion Palace |
Social protests per governorate:
| | |
| --- | --- |
| Governorate | Number of protests |
| Cairo | 3 |
| Dakahlia | 2 |
| Gharbyia | 1 |
| Beheira | 1 |
| Aswan | 1 |
| Bani Sweif | 1 |
| Qena | 1 |
| Port Said | 1 |
| The Red Sea | 1 |
Third: The distribution of the protesting labor sectors
| | |
| --- | --- |
| The protesting sector | Number of protests |
| Workers | 2 |
| Lawyers sector | 1 |
| Journalism and media sector | 1 |
| Business sector | 1 |
Fourth: The distribution of the protesting social sectors
| | |
| --- | --- |
| The protesting sector | Number of protests |
| Residents and residential neighborhoods sector | 7 |
| Sports sector | 2 |
| Student sector | 1 |
| Refugees and foreign communities sector | 1 |
| People's Assembly and Senate sector | 2 |
| Journalism and media sector | 1 |