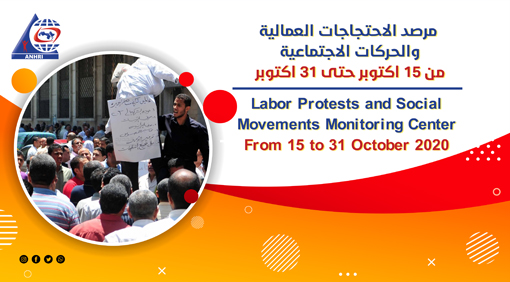 The Labor Protests and Social Movements Monitoring Center monitored 11 protests, including 9 social protests in addition to 2 labor protests during the second half of October 2020.
The reporting period witnessed an upsurge in social protests in more than one governorate after the new academic year kicked off at all educational stages, making the suffering of citizens getting worse in light of the precautionary measures that will be carried out over second wave of the coronavirus. For example, a group of 300 students went on strike on first days of school at "Manshiet Al-Yaqoubia" in Al-Gharbia governorate to protest the school's non-completion of its maintenance procedures.
First: Protesting methods
"Gathering" cases topped the list of labor protests took place during the reporting period, followed by "strike" cases then by "suicide" cases in third place.
Gathering cases include:
Dozens of victims of a former parliamentarian gathered in front of his company in Qena Governorate to protest his seizure of 10 million EGP.
Dozens of residents at Upper Egypt's villages in Luxor Governorate gathered to denounce the Islam-offending cartoons.
Dozens of people in Cairo gathered after the end of the Friday prayers inside the Al-Azhar Mosque to protest the Islam-offending cartoons.
The Sudanese diaspora gathered in front of the house of Sudanese child Mohamed Hassan, who was killed by a citizen in Giza Governorate.
Strike cases include: 
A strike launched by the workers of "Kazarin" factory for ready-made garments in Fayoum governorate was ended after the Ministry of Manpower negotiated with the factory's administration.
A group of 300 students in "Mansheit Al-Yaqoubia" district in Gharbia governorate went on strike to protest their school's non-completion of its maintenance procedures.
Suicide cases include: 
A young man took his life by hanging himself after passing through a financial crisis at "Al-Qanater Al-Khayriya" in Qalyubia Governorate.
Protests
Graduates of Faculty of Nursing staged a protest in front of the Ministry of Higher Education and Scientific Research in central Cairo to denounce the raising of the minimum admission requirements for colleges
Blocking off roads 
Supporters of a Parliamentary candidate in Qena Governorate cut off the road after losing vote counting in the Parliament elections.
Threatening to protest:
After rejecting the new Unified Labor Law, the security forces launched an arrest campaign against workers in the public business sector in Cairo and Giza governorates.
Collective complaint cases: 
Residents of "Al-Tijarien Villas" in Mokattam district are seeking help and complaining about suffocation resulted from a restaurant's smoke. More than one person submitted this complaint to the concerned apparatus.
The protesting sectors
'Residential neighborhoods' Sector topped the list of protesting sectors with 6 protests, followed by the 'education and scientific research' sector sectors with 2 protests each, then came the 'spinning and weaving sector – state workers sector – foreign community sector) with one protest per each .
Distribution of protests in Egypt's governorates
Cairo came at the forefront of the list of the protesting governorates with 4 protests, which is the highest among all governorates, followed by Qena governorate with two protests.
In third place, each of (Qalyubia – Gharbia – Fayoum – Luxor – Giza) governorates shares a protest for each.
Fourth: Distribution of protests in Egypt's governorates
Kind of protests
Number of protests
Governorate

Threatening to protest
Gathering
Protesting
Collective Punishment

4
Cairo

Gathering
Blocking off road

2
Qena

strike

1
Gharbyia

Suicide

1
Qalyubia

Gathering

1
Luxor

Strike

1
Fayoum

Gathering

1
Giza