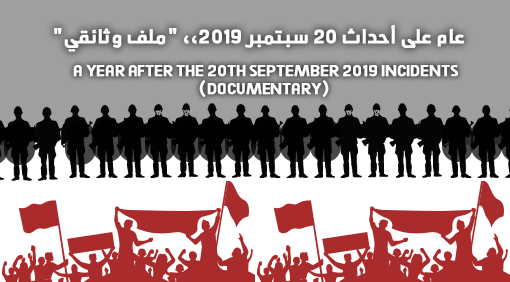 Introduction
On September 20, 2019, Egypt witnessed a wide social movement, whether on the Egyptian street or on social media, resulting in wide wave of random arrests of large numbers of citizens of all categories and ages. The movement has not been witnessed by the Egyptian state for nearly six years, specifically after the events of 30 June 2013. The move provoked panic and hysteria within the Egyptian state institutions, which led the security services to prepare their guards and troops and arrest thousands of citizens, including some supporters of the regime itself in a situation that brings back to mind what happened in the 1977 "bread uprising", after which the Egyptian regime arrested those who participated in it, and who did not participate, including its supporters at that time.
What caused the September 2019 movement, what did this movement lead to, and what happened?
Questions we are trying to answer in this paper.
First: – reasons for the September 20, 2019 demonstrations. "Social, political and economic conditions, and the emergence of Mohammed Ali."
Time Panorama
– The September 20 protests in a related context came with Egypt's last 9 years of revolution from January 25, 2011, against Mubarak's regime, through the protests that followed on June 30, 2013, in protest against Mohamed Morsi's rule and the Muslim Brotherhood until they were removed from power on July 3 In 2013, the disperse ofRabaa and Nahda sit-ins, the murder and arbitrary arrest that Egypt had never seen before in its modern era!
– The nature of the September 20 protests was not very different from the previous ones, as their demands were also: freedom, social justice and human dignity, especially as the state of Egypt no longer differs from what was before the January 25 revolution. On the contrary, life has become much worse, unemployment has increased, the Egyptian state has launched its security grip on all forms of life in Egypt, there is no longer any breathing space for opinion or expression, except for the representatives of the regime in the media and universities.
– Even Egypt's political parties are fake, and many of them are openly declaring their loyalty to the president in a scene that looks like a farce, as well as a parliament that has been living the political, social, and economic life with repressive laws that increase people's suffering, oppression and limit their freedom.
– At the beginning of September 2019, the Egyptian actor and contractor Mohammed Ali, who lives in Spain, appeared on social media in a video collection in which he spoke of his cooperation with the Egyptian army in nearly 15 years through his family's contracting company under contracts of employment, through which his company built several presidential palaces, accusing the president of wasting public money and accusing many high-ranking officials of being responsible for that.
– The Egyptian media has conducted a systematic campaign to attack Muhammad Ali and stigmatize him with treason accusing him of being an agent to foreign powers in order to stir public opinion and spread chaos in the country, they said.
– The systematic campaign led by the Egyptian regime to attack Muhammad Ali through media did not refute the accusations that Muhammad Ali made through his videos, but intensified the interaction and spread of those videos on social media and became widely known on the Egyptian street.
– After nearly a week of circulation and spread of Muhammad's videos on social media. The big controversy that these videos raised in the Egyptian street pushed Al Sissi to show up for the first time at the youth conference with a grim face, speaking about those videos, saying that all security and intelligence services in Egypt told him not to talk about those videos in any way. But he preferred to talk about it, commenting that all these accusations are nothing but "lies and forgery". Concerning the construction of presidential palaces, Al-Sissi confirmed that he is actually building many palaces, but it does not belong to his family, but they are built for Egypt, he said.
Wael Ghonein, political activist and US resident, also appeared again on the social media. He also broadcast several videos on Mahmoud Al-Sisi's administration of political life in Egypt, talking about receiving several offers from the Egyptian embassy in Washington by stopping talking about these matters in return for safety and ensuring his return to Egypt again.
This came before the arrest of Dr. Hazem Ghoneim, brother of activist Wael Ghuneim in Egypt on September 19, 2019. As he was accused of joining a terrorist group and was held him in custody in case No. 1338 of 2019, State Security, a case in which all arrested in September events were arrested and charged. Afterwards the case was known in the media as the "September 20 demonstrations" case.
All this came in conjunction with calls by Egyptian contractor and representative Mohamed Ali to Egyptians to go to the streets and demonstrate on September 20, 2019 against Al-Sissi and his ruling regime.
The streets of major cities, especially Cairo, are began to witness wide arrests of young people of both sexes, searches, checks of their mobile phones and arrests of many of them who may be linked to the January revolution or the opposition, after searching their phones and social networks data.
Many citizens exploited watching Al-Ahly and Al Zamalek match, and after ending it, several demonstrations started in several Egyptian cities, governorates and squares, which called for the fall of the current regime, the most prominent of which is Al-Tahrir Square in Cairo, and Al-Arbaeen Square in Suez, Mahalla and Alexandria, mostly young men who are not politically classified, in a scene that has been absent from Egypt for nearly seven years.
Human rights organizations began to receive a torrents of reports of citizens missing from different squares, including those who were returning from their work, including those who were accidentally present in the site, and those who were present for other purposes.
Second: Random arrests of regime supporters before opponents and security attacks that hit opposition symbols, academics, journalists, human rights advocates and attacks that hit many"

"Scene one"
On September 21, 2019, inside the State Security Prosecution in New Cairo, where the independent lawyers and human rights activists have finished their work inside the prosecution, and they are about to go to their offices and homes, as they were surprised that there were a large number of defendants being taken to the State Security Prosecution to investigate them in huge numbers, elderly, children, young men, women and girls
In a painful and sad scene for all of the lawyers attended at the time, all of them were arrested randomly from different places and governorates, the majority of them not politically classified.
Investigations with these numbers of citizens continued until the noon of the following day, September 22, 2019, the investigations were distributed to the State Security Prosecution, New Cairo, the Public Funds Prosecution, Tax Evasion, and the Financial and Commercial Affairs Prosecution.
The number of those who were arrested and those who were investigated on the first day were estimated at about 500 defendants.
"Scene Two"
The torrent of reports, sent to human rights institutions, claiming the disappearance of citizens continued, they were kidnapped from different squares and governorates, The Arabic Network for Human Rights Information and other human rights institutions, all of them
allocated hot numbers to receive these reports throughout the day.
Some institutions were announcing the number of arrests and updating them around the clock, while the Arabic Human Network Rights Information (ANHI) only published cases that appeared and were investigated and provided legal support by the network lawyers, while continuing to receive citizen reports of arrest and disappearance.
The State Security Prosecution did not absorb the vast number of citizens arrested, there was an obligation to distribute them, starting on September 22, to the Courts and procuratorates complex in central, southern and eastern Cairo, court complex of Al Sayeda Zeinab district, and hence we entered a new stage of law tampering, with large numbers of human beings being led to court in southern Cairo, Zeinhom district in closed buses, you cannot see the people inside it, parents, husbands and wives standing at the entrance of the court waiting for those who reassure them about their children and their relatives.
Lawyers scramble inside the court here and there to search for names they were told in the hope of attending investigations with them and reassuring their relatives, men, women, elders, children and young suspects. The investigations were forms of printed and distributed questions on all the procurators from the first to the seventh floor of the court.
Citizens from Aswan, Alexandria, Port said, Ismailia, Cairo, Sohag, Mahalla, Suez, Egyptians from everywhere, arrested and investigated with charges that do not make sense of joining a terrorist group/participating a terrorist group and spreading false news, misuse of social media in a case No. 1338 of 2019 Supreme State Security.
Among the defendants illiterates, workers, farmers, engineers, doctors, students, lawyers, housewives, employees, traders – a variety of all groups of society – who have a relation with politics and who does not know its meaning – some are against this whole system and some elected Al-Sissi and admitted this in investigations!
The arrest of these ordinary citizens has not ended, but only extended to the unprecedented security offensive to include the arrest of human rights advocates, journalists and academics.
On 22 September 2019 The lawyer Mahinor al-Masri was kidnapped before the State Security Prosecution and arrested to appear later in the State Security Prosecution, including her in the case No. 488 of 2019 and accusing her of participating in a terrorist group and spreading false news.
The former head of the Constitution Party, Khaled Daoud, Dr. Hassan Nafaa, and Dr. Hazem Hosni, political science professors, were also arrested and included in the same case, and by mid-October of the same year, human rights lawyer Amr Imam was arrested. Who played a prominent role in defending those arrested in the September 20 events and became accused in the same case number 488 before being rotated from his prison in a new case last month.
"The number of people arrested at random and questioned during those incidents, specifically from September 20 to September 25, estimated more than 1,000 protesters," .
Third: Statements by the Public Prosecutor concerning the incidents and the seriousness of their application on the ground.
On September 26, 2019, the Public Prosecutor issued a statement in which he spoke about the Public Prosecution conducting extensive investigations regarding the September 20 demonstrations that took place in the governorates within Egypt to reveal facts about its organization and participation, and that the Public Prosecution questioned a number of not more than a thousand protesters arrested during those events, reserving surveillance cameras located in the area of ​​the places of these demonstrations – examining the pages and accounts of the defendants on social media, and the statement indicated that some of the defendants admitted demonstrating for several reasons, including poor living and economic conditions, while some confessors attributed their participation in the demonstrations to deceiving pages created on social network claiming to be attributed to official and government agencies calling on citizens to demonstrate and then they discovered that these pages are not authentic. [1]
The statement ended by the public prosecution warning citizens to join plans using them to harm their country .
This statement did not mention the actual numbers that were arrested and those who disappeared since the beginning of the events on September 20. The numbers are estimated at more than 4,000 people arrested from across the country, according to statistics from human rights organizations that were receiving citizens' reporting around the clock.
On 3 October 2019, the Public Prosecutor issued a statement in which he said that a number of foreigners who were arrested during the demonstrations and the events of 20 September were released and exported to their countries at the request of their embassies. Ministry of Interior had earlier announced the arrest of foreigners including students, on charges related to participation in the September 20 protests, as they appeared in a video of what they called "confessions" of their involvement in the charges, the statement said that the prosecution interrogated a number of foreign suspects and accused them of the participation with the terrorist Brotherhood, knowing that it aims at making an attempt to create a state of chaos.
Some also were accused of financing the elements of that group, with the preparation and training of individuals who taught them techniques and skills to use in committing such crimes, and the use of a radio-moving aircraft without authorization by the competent authority for the purpose of committing a crime[2]
It is worth mentioning that the Egyptian media during the release of the video of the confessions of the defendants published by Ministry of Interior, led a systematic campaign and a strong attack on all those who participated in those demonstrations, depending on that video, saying that those who respond to these calls are enticed by foreign sides which called on them to demonstrate to shake stability and destroy the country, as they said.
However, they did not give a voice as the public prosecutor released them, despite their involvement in confessions, as the Interior Ministry statement and the prosecution's statement said, while the Egyptians who were arrested in those incidents were not released, which doubts the credibility of the video of their alleged confession.
On October 23, 2019, the Public Prosecutor issued another statement to the previous statement, on September 26, 2019, this time, it spoke of the investigations the Public Prosecutor had conducted with the detainees in those incidents, "and this time no figures were given". The prosecution investigated the defense of the accused, examined the evidence of proof, and appealed to the clemency to release children, students, women and the elderly who were proven not to be demonstrating. They were not linked to the calls of groups that aim at destroying Egyptian state institutions, the statement said [3]
But the reality of what happened on the ground is that a large number of children were still arrested and renewed every 15 days, including those who were in the penal institution in Marg, and some of them were imprisoned with adults in various prisons and police stations in violation of the law, in addition to a large number of elderly people, who were not released – despite the release decisions that came after this statement.
Fourth: The role of civil society institutions and their lawyers during these events 
The civil society organizations played a historic role in these events since the beginning of the invitation to these demonstrations, the Arabic Network for Human Rights Information, the Egyptian Commission for Rights and Freedoms,The Egyptian Center for Economic and Social Rights and Justice Center for Rights and Freedoms published hotline numbers on their websites and pages on social media to receive citizen reports to provide legal support to all those arrested, and with the first arrests and appearance of accused persons in the State Security and other state-owned procurators, the lawyers of these institutions were the first to be present at the time to defend these suspects and attend investigations with them that continued daily in the morning and evening, and they were eyewitnesses to the violations against the accused, which they also faced, starting from violating their right of defense during the mass presentation of the accused, the failure to inform them of the papers of these cases, in violation of the international agreements and treaties signed by Egypt, and also in violation of the Egyptian
Constitution, the Criminal Procedure Code and the Law of Attorney.
Some of the lawyers of these institutions have also been arrested for performing their duty to defend detainees in these events. The lawyer Sahar Ali was arrested from her home on September 23 after attending investigations in the September incidents and remained in enforced disappearance for 24 days until she appeared in State Security Council, facing charges in the case No. 1358 of 2019, Supreme State Security.
Human rights attorney Amr Imam was also arrested from his home on October 15, 2019 after he had a prominent role as a lawyer in that case, especially during the renewing sessions of the detainees who were imprisoned collectively, with barefoot, and handcuffed. Also lawyer Mohamed Helmi Hamdoun and his sister-in-law, Asmaa Deibas, a feminist activist, to be accused in the same case no. 1338, known as "September Incidents Case".
The lawyer, Mohamed al-Baqer, the executive director of the Justice for Rights and Freedoms Center, was arrested on September 29 while attending with Alaa Abdul Fattah in the prosecution, he was included in the same case which he was attending to defend his client against, the case No. 1356 of 2019, State Security.
Lawyers mentioned earlier in this paper are still imprisoned and even handed over in other cases, except for human rights lawyer Sahar Ali, who replaced her reserve prison with precautionary measures last month. Despite releasing about ninety percent of those arrested in these events.
Conclusion
A year after the September incidents and demonstrations, they were like the stone that moved the stagnant water in the Egyptian political street after it was silenced for seven years. With renewed calls for demonstration on this day again, the Egyptian regime has not learned the lesson that took place last year.
With that anniversary, Egyptian security preempted the indiscriminate arrest of citizens and the violation of their privacy and freedoms by unjustifiably arrests, inspecting their phones, tightening security control over Egypt's main squares, and summons for activists and citizens who were released on the background of last year incidents, amid popular discontent with repeated failures and crises and a clear failure in all files dealt with by this regime during the previous period, will it repeat the same scenario last year or
Will the public scene be silent for years?
Recommendations:
-The Public Prosecutor should consider the decision to release those who remain imprisoned from the citizens pending the case No. 1338 and case No. 1413, like those who were released from these cases and he should validate the law.
-The Interior Ministry should stop unduly arresting citizens, inspecting their phones, terrorizing them with security summons and violating the law.
-The Public Prosecutor should restrict the State Security Service's authority over citizens as he is the people's lawyer, to stop referring cases of freedom of opinion and expression to the SSSC, and refer only real terrorism cases, and emphasize that the constitution and law are practically respected.
-The Public Prosecutor should review the files of lawyers who are held in custody in cases of opinion, lawyers who are held for exercising the right of defense provided by the Constitution and the law, and international agreements and treaties signed by Egypt in this regard, and decide to release them all unconditionally.


---

---
[1]                    –Egyptian Public Prosecution النيابة العامة المصرية – Subject Title – Public Prosecution statement – Published on 28 September 2019 – Link  https://www.facebook.com/ppo.gov.eg/photos/a.2000327433408482/2483458748428679/?type=3&theater – Visit date – September 17, 2020 .
[2]                  Site Name – Day 7 – subject Title – Public Prosecutor released foreign suspects pending the case of 20 protesters September – posted October 3, 2019 – Link-https://www.youm7.com/story/2019/10/3/%D8%A7%D9%84%D9%86%D8%A7%D8%A6%D8%A8-%D8%A7%D9%84%D8%B9%D8%A7%D9%85-%D9%8A%D9%8F%D8%AE%D9%84%D9%89-%D8%B3%D8%A8%D9%8A%D9%84-%D9%85%D8%AA%D9%87%D9%85%D9%8A%D9%86-%D8%A3%D8%AC%D8%A7%D9%86%D8%A8-%D8%B9%D9%84%D9%89-%D8%B0%D9%85%D8%A9-%D9%82%D8%B6%D9%8A%D8%A9-%D8%A7%D9%84%D8%AA%D8%B8%D8%A7%D9%87%D8%B1/4443539 – Visit date is September 17, 2020 .
[3]                    Egyptian Public Prosecution النيابة العامة المصرية On Facebook – subject Title – statement by the prosecution Public – Published – 23 October 2019 – Link https://www.facebook.com/ppo.gov.eg/photos/a.2000327433408482/2533696276738259/?type=3&theater – Visit date September 17, 2020.