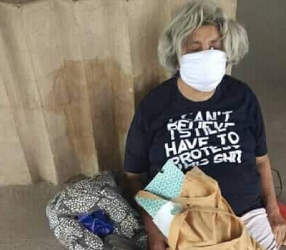 During the period from 1 May to 15 May, ANHRI's Trade Unions, Labor Protests and Social Movements Monitoring Center monitored 9 labor and professional protest movements in addition to 6 social protests.
Despite the individual nature of the protests took place during the reporting period, it also witnessed a protest with the participation of 1,200 workers from a garment factory in the investment free zone in Ismailia governorate. The workers staged on 10 May a labor strike demanding the payment of their delayed wages suspended since last April. During the reporting period also, academic Leila Suef- professor of Mathematics at the Faculty of Science, Cairo University, PhD in mathematics philosophy from the French University of Poitiers, and the founding member of the March 9 Movement to defend the independence of universities- displayed an exceptional courage by organizing an individual sit-in in front of the gates of Tora prison; to protest the ongoing harassment and crackdown practiced against her son human rights defender and blogger Alaa Abdel-Fattah, who has been on a hunger strike since April 12 denouncing his continued illegal detention while being prevented from receiving any family visits as well as the prison inhuman conditions he is enduring.
Protests and vigils came in the first place with 6 cases, followed by strikes with 4 cases and two sit-ins, one of which was staged by Dr. Leila Suef and the other one was organized, on May 1, by 800 workers from the "Merala Textile" Spinning and Weaving Factory at Obour City, Qalyubia Governorate; to protest the factory's administration refraining from paying the April salaries under the guise that the factory is going through a financial crisis due to the coronavirus pandemic.
This is in addition to two suicides due to the poor economic conditions.
Distribution of protests in Egypt's governorates 
Giza and Ismailia came first with 3 protests each, followed by (Alexandria, Menoufia and the Red Sea governorates) with 2 protests each, then came the governorates of (Cairo, Qalyubia and Qena) with one protest in each of them.
The reporting period witnessed 4 protest cases in the textile sector, 4 cases in the health sector, and two protests in the security sector, in addition to two suicide cases due to poor economic conditions. Also, the tourism sector along with the mineral and engineering industries sectors witnessed one protest each, not to mention the protest organized by dozens of Yemenis stranded in Cairo.