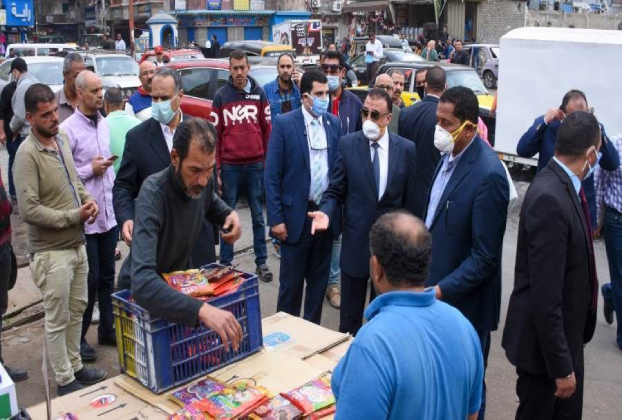 During the period from 15 April to 30 April, ANHRI's Trade Unions, Labor Protests and Social Movements Monitoring Center monitored 12 labor and social protest movements, including 7 labor and professional protests and 5 social protests.
Alexandria Governorate was at the forefront with 3 protests, while Giza came in the second place with two protests. The most important sectors protested during the reporting period were: the education and scientific research sector, the security sector, the health sector, and the textile sector, with two protests each.
The monitoring center monitored 3 suicide or attempted suicide cases owing to the deteriorating economic conditions. Two of these cases were committed within the education and scientific research sector throughout the reporting period, as follows:
On 16 April, W.D, a teacher, cut the arteries in his hands in his apartment in Manshyet al-Qanter region, north of Giza Governorate, after he suffered a psychological distress for being unable to cover his family's expenses.
On 23 April, Mohamed A, a young man, attempted suicide by setting fire to himself at Soug al-Samak at Mahalla al-Kubra Center in Gharbiyya Governorate, due to the accumulation of debts and financial difficulties he suffered, before he was transferred to the hospital.
On 29 April, Ahmed E. A., a service worker at Kafr El-Gharib Elementary School, Ashmoun Educational Administration, Menoufia governorate, killed himself by hanging inside the school, after he had been in a bad psychological state due to financial difficulties.
The labor and social movements didn't witnessed significant demands comparing to the protesting feature which indicates the attempt to undermine the rights of protesters.
With respect to the protesting method, protesters resorted to committing suicide in three cases and to launching labor strikes in two cases, along with two protests, two gathering cases, one other protest and one case where people threatened to protest in addition to one collective complaint, as follows:
A group of nurses at the Industrial Kidney Unit of the Fayoum General Hospital went on strike on April 18th, demanding to conduct a coronavirus test for them after dealing with a number of confirmed cases, but the hospital manager rejected their demand.
A group of nurses at Mansourah Health Insurance Hospital in Sindoub, Dakahlia Governorate, went on strike on April 28th, to protest against the rejection of their demand to conduct a coronavirus test for them after detecting 5 positive cases of coronavirus among doctors from the Cardiac Care Department.
As for the protest events organized during the reporting period:
A group of workers at the textile factory in Kafr El-Dawwar in Beheira Governorate organized a protest in the factory yard to protest the delay of their payment for two months in a row.
More than 300 workers at a garment factory in Qalioub organized a protest on April 27th, to protest the factory's administration's intransigence, the delay of their payment, the termination of their annual contracts, and the displacement of their families.
As for the gathering incidents:
On April 24, a number of parents gathered in front of a house in the village of "Mit Abu Al-Arabi" of the Zagazig Police Station in Sharkia Governorate, to protest the decision to release the house's owner pending investigations after being accused of sexually assaulting a mentally handicapped child.
On April 27, a number of street vendors gathered in Mazlakan Sidi Bishr, Alexandria governorate, after the municipal administration launched a campaign against residential occupancies and street transgressions. In response, the security forces intervened to break up the gathering. An administrative report was also filed into the incident.
As for demonstrations:
Dozens of Alexandria residents took to the street on April 25 carrying a model of the Kaaba on their shoulders and chanting slogans welcoming Ramadan to protest the coronavirus pandemic.
As for threatening to protest:
On April 17, a number of workers at "Ezz Al-Dekheila" steel factories threatened to organize a strike and a sit-in to protest the factories' administration's intransigence and rejection to pay employees their share of the annual profits for the past year.
As for the collective complaint:
On April 28, a number of residents at Abu Ghaleb village at Manshayet Al-Qanater in Giza governorate sent a collective complaint to media outlets complaining about the continuous closure of the village's telephone operator for more than a month.
Three protests were met by suppression and intimidation, and two protests ended by the death of their protesters, while it was not known exactly how the 6 other protests ended.