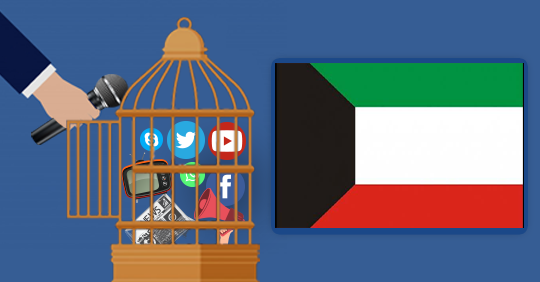 Introduction 
The geographical location of Kuwait and its affiliation with the Gulf Cooperation Council (GCC), as well as its government's neutral stance on the conflict between Qatar on the one hand, and Saudi Arabia, the United Arab Emirates and Bahrain on the other hand, have played a significant role in portraying a positive image of the country. However, this image didn't prevent social media activists from expressing their views on Kuwait's internal situation and voicing their criticism towards the stance taken by Saudi Arabia, the UAE and Bahrain, a matter that authorities in Kuwait met with detention, trials and smear campaigns.
Moreover, the growing right-wing movements such as "Group 80"- a lobby group calls for giving priority in employment to Kuwaiti citizens by confronting any amendments to the citizenship law to guarantee the Bidoon (stateless) rights- in addition to the expansion of administrative corruption and the suppression of social media activists, have led to the spread of fake accounts on social media platforms.
First: Legislative and legal developments
The National Assembly committees discussed a number of bills, including the amendments to the Law No. 3 of 2006 on Press and Publications. Also, the Legislative Committee issued its report on a draft law regarding the right to information, but despite all such discussions, the Parliament has not yet issued laws pertaining to freedom of opinion and expression in Kuwait.(1)
Besides that, on 31 July 2019, the Kuwaiti Deputy Prime Minister and Interior Minister Sheikh Khaled Al-Jarrah issued a regulation stipulating the use of firearms and gunfire rules for security men; as he allowed shooting protesters at their feet, provided that it causes a non-fatal injury.(2)
Second: Cases with the most impact on freedom of expression
The issue of "Bidoon" or stateless people in Kuwait still remains unresolved and political parties are still using it to gain votes in parliamentary elections. As a result, citizens who are deprived of their nationality are still paying the price by wasting their lives, dignity and reputation in order to attain the right to citizenship and enjoy equality with their compatriots. But the Kuwaiti government seems determined that this group of people must remain victim of discrimination, and that if they attempt to speak out or complain about their suffering or object to such violations, they will be met with suppression.
On 12 July, the security forces arrested a number of Kuwaiti human rights activists who advocate for the rights of "Bidoon" and referred them to the Central Prison, against the backdrop of organizing a sit-in demanding the Bidoon rights. The sit-in protest was a response to the death of Ayed Hamad Moudath, a young boy who committed suicide on the 7th of July due to his frustration after being denied identification papers that would allow him to study, work, and obtain access to public services. Among the detainees who were arrested at the time is the prominent Bidoon rights defender Abdul Hakim Al-Fadhli.  The other incarcerated activists are: Ahmed al-Onan, Awad al-Onan, Abdullah al-Fadhi, Mutaib al-Onan, Mohammed Khudair al-Anzi, Yousif al-Osmi, Nawaf al-Bader, Hamid Jamil, Yousif al-Bashing, Jarallah al-Fadhli, Ahmed Shaya al-Anzi, and Alaa Al-Saadoun who was released after a member of the National Assembly mediated to free her.
One of the cases that caught the public's attention during 2019 is the case of "social media's fake accounts", as it was taken to the corridors of the National Assembly after Emir of Kuwait Sheikh Sabah Al-Ahmad Al-Jaber Al-Sabah stressed the need to pass legislation to control social media platforms that are flooded with fake accounts.
Another case that attracted the public opinion attention in Kuwait is the case of "Atij Al-Masyan" account's owner who tackled the issue of "forged certificates", until on July 21 it was reported that he was arrested on a charge of insulting Twitter users and public figures.
Also the case of Kuwait's deportation of Egyptians accused of being members of the Muslim Brotherhood group had been a complex subject of controversy, as Kuwaiti authorities extradited on 15 July 2019 eight Egyptian opponents to their country despite the grave risks of torture and persecution they might be subjected to in Egypt.
Third: Violations of freedom of expression
Violations of freedom of opinion and expression in Kuwait took many forms, including trials, assaults, detention, and intimidation campaigns. These violations were largely centered against social media activists and Bidoon rights defenders.
* Assaults
On 23 July 2019, a force of unidentified persons kidnapped prominent journalist and Bidoon rights defender Hammoud Al-Rabah, while he was with his wife in a restaurant in downtown Kuwait City. Afterwards, Hammoud appeared in the Prosecution's headquarters for investigation pending one of Bidoon rights defenders' cases. (3)
* Detention
Detention is the second tool used by the authorities in Kuwait to curb freedom of speech in the country. On 19 March 2019, the security forces raided the headquarters of "Al-Hadaf" magazine and arrested its director Mazen Al-Tarazi, a Syrian businessman living in Kuwait, along with four of his assistants. The magazine's computers, cameras and the personal phones of Al-Tarazi were also confiscated. The security forces released Al-Tarazi and his aides after spending 3 days in detention under no charges.
On May 20, the Kuwaiti authorities arrested activist and former candidate of the National Assembly Muhammad Khalid Al-Hajri, to implement a three-year prison sentence for allegedly insulting Saudi Arabia and Prince Muhammad bin Salman on social media.
On June 28, the security services arrested politician and former member of the National Assembly Nasser Al-Duwailah, for allegedly insulting Saudi Arabia against the backdrop of comments posted on "Twitter". The Prosecution then released him on bail two days after his arrest.
On July 12, the security services also arrested more than 14 of Bidoon (stateless people) rights defenders and referred them to the Central Prison after they organized a sit-in protest to demand Bidoon rights after the tragic news of Ayed Hamad Moudath committing suicide had been confirmed.
On July 21, the authorities announced the arrest of the fake account's owner Atij Al-Masyan over charges of "insulting the status of the Emir", "broadcasting false news about the country's internal situation", "disclosing job secrets" and "misusing phones".
* Trials
Kuwaiti courts have witnessed many cases related to freedom of opinion, expression and publication at the various phases of litigation. The use of the judiciary is considered the most severe form of violations committed against freedom of expression in the country throughout the year of 2019, where hundreds of trials took place involving several of Twitter activists for voicing their views on social media. Among these trials is the trial of columnist Ahmad Al-Sarraf, who writes for the Kuwaiti daily newspaper "Al-Qabas". Al-Sarraf was brought to court over an article deemed "offensive to Iran", however, the Court of Cassation ordered, on 10 March, the acquittal of the writer after ruling that his article doesn't constitute any violation of the law nor does it abuse freedom of opinion and expression guaranteed by the constitution.
On Thursday, 14 March, the Court of Cassation ruled to exclude citizen "Saleh Jarman" from the lists of candidates running for the supplementary elections of the Kuwaiti National Assembly, against the backdrop of a ruling previously handed down to him over a protest case. The court pointed out that the suspended 2-year prison sentence it handed to Jarman in 2017 had made him not eligible to run for election since he doesn't meet one of its legal requirements.
During the same month (on 19 March), the Kuwaiti Criminal Court sentenced Kuwaiti writer Abdallah Al-Hadlaq to three years in prison with labor, on charges of "inciting sectarian strife" against the backdrop of a tweet he posted earlier. The tweet was followed by a complaint filed against him by the Department of Cyber Crime and the two lawyers Ali Al-Ali and Khalil Al-Tabakh.
The repercussions of the "Enough Nonsense" Speech delivered in 2012 by Kuwaiti former parliamentarian Musallam al-Barrak at El-Irada Square, adjacent to the National Assembly (Parliament), and were promoted by many politicians and activists, still continued during the year. On May 6, 2019, the Court of Appeal upheld the two-year prison sentence issued against a number of citizens, on charges of "insulting the Emir, challenging his authority and undermining his status", with the suspension of the sentence's execution for 3 years, for promoting the aforementioned speech.
The month of May also saw several trials related to freedom of speech. On May 9, the Court of Cassation ordered the acquittal of activist Tariq al-Mutairi from the charge of insulting Saudi Arabia against the backdrop of a tweet he shared via his "Twitter" account.
During the same month, on May 27, the Kuwaiti Criminal Court sentenced, in absentia, Kuwaiti activists and bloggers Musaed al- Mosailem and Abdullah Al-Saleh to five years in prison with force and labor; for allegedly "carrying out a hostile act against UAE, insulting the status of the Emir, spreading false news and misusing mobile phone", owing to some comments they posted on their Twitter accounts addressing the United Arab Emirates.
The month of June 2019 also witnessed the trial of singer Khalid Al Mulla over insulting the judiciary. But, on June 17, Kuwait's media prosecution ordered the release of Al-Mulla and the general manager of "ATV" TV channel Ahmad Al Fadhli under a personal guarantee, in the case filed by the Ministry of Information along with a judge suing the two men.  The lawsuit was against the backdrop of a song performed by Al Mulla and aired by ATV addressing the issue of fraud in the society.
* Intimidation
As opposed to Bidoon rights advocacy groups, some groups emerged in 2019 with the aim to encroach on the rights of minorities and suppress whoever defends them. These groups are launching a smear campaign against Bidoon rights defenders, discrediting them and accusing them of treason in order to intimidate them and crackdown on their right to express the demands and rights of such deprived and underprivileged people (Bidoon). For instance, academic and human rights defender Dr. Ibtihal Al-Khatib had been accused of insulting Kuwait and its leader (emir), aside from breaching her privacy by publishing information about her personal life and family by some accounts on Twitter. Such an intimidation campaign against Al- Khatib followed a speech she delivered at a seminar held by the Democratic Forum on April 10 under the theme "A spotlight on the Bidoon issue" in which she spoke out against the ongoing violations committed against the Bidoon community. This smear campaign also targeted other human rights defenders, such as Hadeel Buqris and Youssef Bouhamd.
The Department of Cyber Crime had previously summoned human rights defenders Abdel Hakim al-Fadli and Khalifa al-Anzi to interrogate them over using their Twitter accounts to incite people to demonstrate in front of the Central Agency to call for addressing the Bidoon situation and resolving their issue. The department also questioned Hamid Jamil over allegations of using a fake account on Twitter to attack the "Group 80" members.
Human rights defenders Anwar Al-Rouqi and Karima Karam had also been subjected to interrogation and intimidation over their views they share on Twitter.
Fourth: The most common accusations against freedom of expression
There is a long list of the most common charges that are being used in Kuwait to restrict the right to freedom of opinion and expression, most prominent of which are:
Calling for an unauthorized gathering, joining an unauthorized gathering, misusing mobile phones, toppling the regime, insulting the Emir, spreading false news, undermining the status of the Emir, insulting the judiciary, disclosing job secrets, and stirring sectarian strife.
Fifth: Victims
To name just a few, the list of victims of freedom of expression in Kuwait is topped by 15 detained activists and advocates of stateless people's rights. They are: Abdul Hakim Al-Fadhli, Ahmedal-Onan, Anwad al-Onan, , Mutaib al-Onan, Abdullah al-Fadhi, Mohammed Khudair al-Anzi, Yousif al-Osmi, Nawaf al-Bader, Hamid Jamil, Yousif al-Bashing, Jarallah al-Fadhli, Ahmed Shaya al-Anzi, Hammoud Al-Rabah, Khalifa Al-Anzi, and Reda Al-Fadhli. The list of victims includes also: human rights defenders Dr. Ibtihal Al-Khatib, Hadeel Bou Qurais, Youssef Bou Hamad, Abdel-Hakim Al-Fadhli, Hamid Jamil, and Alaa Al-Saadoun, in addition to: former MP Musallam al-Barrak, Abdullah Al-Saleh, singer Khaled Al-Mulla, and Salem Al-Dossary, aka "Abu Rifaa".
——————————————————————————————————————-
Footnotes
A news report published on "Al-Anbaa" website entitled "Legislative": Canceling the pre-censorship of imported books"- Published on: June 9, 2019- Last accessed date: September 27, 2019- https://www.alanba.com.kw/ar/kuwait-news/parliament/906959/09-06-2019-%D8%A7%D9%84%D8%AA%D8%AD%D9%82%D9%8A%D9%82-%D8%A7%D9%84%D9%81%D8%AA%D9%88%D9%89-%D9%88%D8%A7%D9%84%D8%AA%D8%B4%D8%B1%D9%8A%D8%B9-%D8%AA%D9%88%D8%B5%D9%8A%D8%A9/
A news report published in "Al-Shorouk" newspaper entitled "Kuwaiti newspaper: Interior allows security men to shoot at the feet of demonstrators and fugitives"- Published on: July 31, 2019- Last accessed date: September 28, 2019- https://www.shorouknews.com/news/view.aspx?cdate=31072019&id=35124aeb-ee54-469e-9b79-477789ca6417
A statement published on the Gulf Center for Human Rights website entitled "Kuwait: prominent activist and journalist Hammoud Al-Rabah abducted over a tweet"- Published on July 24, 2019- Last accessed date: September 27, 2019- https://www.gc4hr.org/news/view/2174