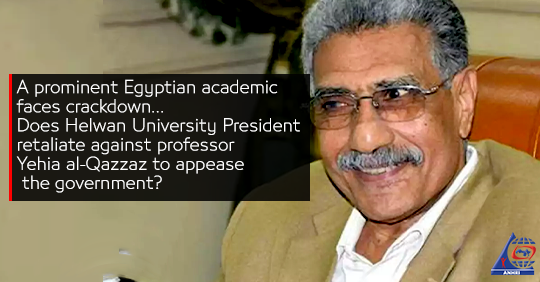 Cairo: 13 February 2020
The Arabic Network for Human Rights Information (ANHRI) said today that the ongoing harassment and arbitrariness practiced by President of Helwan University against "Yehia al-Qazzaz", professor of science at the university; by pursing investigations against him and unjustly referring him to the university's disciplinary board for the second time over accusations that were not proven by the Public Prosecution, constitute a political retaliation and repression which contravene the law and undermine the academic values that the university's president should have defended.
The series of violations against professor Yehia al-Qazzaz date back to July 2019, when he was investigated by Helwan University into his alleged absence from work during the period from August 2018 to 26 May 2019, during which he was held in remand detention upon a decision from the Supreme State Security Prosecution over an opinion-related case for publishing political commentary.
Although there is legal evidence that professor Yehia was held in custody pending a political case (No. 1305 of 2018 State Security), the investigation continued for several sessions. Then the disciplinary board decided to adjourn the investigation for the first of March 2020 until submitting notes by the defense team.
Instead of halting this unfair investigation with professor Yehia al-Qazzaz, he was surprised at the President of Helwan University issuing a new decision to interrogate him again; for allegedly breaching his job duties as one of the university faculty members and for belonging to a terrorist group!!
Consequently, a new session has been set at the first of March 2020 to consider the investigation and hear his testimony over the second incident of arbitrariness.
ANHRI believes that the investigations with professor Yehia al-Qazzaz not only constitute a violation of the law but also a kind of political retaliation from the university's president to get close to the authorities at the expense of his colleague's rights and the academic values. The university' president should rather express solidarity and show support for Yehia al-Qazzaz and not practice further abuse against him.
ANHRI added "These mistakes must be immediately corrected. The crackdown against professor Yehia al-Qazzaz and other peaceful political opponents must be stopped. ANHRI also demands to stop the mix-up of political stances and academic affairs on campus and to respect the legally guaranteed academic freedoms."